Disclosure: We only recommend products we would use ourself and all opinions expressed here are our own. This post may contain affiliate links that add no additional cost to you, but we may earn a small commission.
In this blog post, I would like to share with you what kind of gear we use to create our content.
Photography and videography is my absolute biggest passion and hobby, which luckily have evolved into my fulltime job. I enjoy following how the technology developed and how trends in the creation of content are moving in different directions.
However, I want to state that creating content is an art in the same way as painting a picture – therefore it's also important not trying to copy what other people are doing, but also get your own style, look and feel.
Best camera and gear for travel photography and video
To start out with, I would like to point out that the gear and camera equipment, I use to shoot the content for our travel blog, is also the same I use to shoot commercialized content for companies with.
The way we are traveling with @thetravelbook is mainly with cars. This also means that I often have enough space to pack all the camera gear and equipment I like to bring.
Weight and size make a huge difference if you for example are traveling as a backpacker.

On our trips, I bring two different camera bags for hiking, and the weight and size really do matter!
During my last 10 years with photography, I've changed my camera gear quit a lot of times. Not only because the new gear comes out on the market, but also because my interest in motifs and visions are changing.
All people I know who are into creating content are just as mad gear freaks like me, and most often you can always just find a little extra something you need… ask yourself; Do you really need it?
In my opinion, the right picture can be taken with very simple gear.
I've been shooting with Canon cameras ever since, my mum let me borrow her old Canon camera when I was about 14 years old.
The first camera I bought myself was a Canon 1000D. It was a huge upgrade from my mum's old Canon from 1995.
Ever since then I've been the proud owner of the 5d Mark ii, 6d Mark ii, 5d Mark iii, Canon Eos R, Canon Eos R6, and my current camera is the latest model Canon EOs R5.
The reason I'm currently settling with this camera body is because of the quick 20 fps and a video resolution better than on the Eos R. 
This lens is one of my all-time favorite lenses!
Before Canon made the RF lenses, I had the EF 70-200 USM ii.
For the past 2 years, this has been my go-to lens. It's perfect for capturing all daily happenings on the street, but at the same time, you can capture the great depth of field with the aperture of just 2.8.
The new RF lenses are definitely an upgrade and this RF 70-200 lens is super quick!


I would not be able to complete any of my jobs without this wide-angle lens.
The focal length of 16mm is in my opinion the perfect amount of widening. Below 15mm it becomes too much of a fish-eye effect on the content, for my taste at least.
The aperture of f/ 2.8 makes it perfect for the low-light conditions. I use this when taking pictures inside or for example hotels or villas and during astrophotography.
The Canon RF 35mm f/ 1.8 Macro is my Swizz army knife. As you can see in the pictures below I use it for almost anything.
This is the cheapest lens I have in my camera bag – but it's still the lens I've taken some of my absolute favorite pictures with.
The macro part of the lens allows you, to get extremely close to your object and still get super-sharp pictures.
This is also my main lens for shooting video. The lens is light and has a great image-stabilization, which makes it possible to shoot super smooth handheld videos. The 35mm is also a perfect distance if you ask me for all kinds of travel pictures. Portraits, food, landscape… this lens can do it all!
Since I started taking pictures I've appreciated nature and animals a lot more than before. When I'm hired to complete a job as a photographer I need to work concentrated, efficient, and not waste too much time during the job.
Shooting pictures of wildlife is the complete opposite. You need to be extremely patient, and often I never know what I'm actually looking for – I'm just out in nature with this incredible lens. It's a huge investment to buy a professional L series telephoto lens like this – and besides that, it's extremely heavy to carry around.
If you want to try out wildlife photography I would suggest that you try one of the RF lenses, such as the RF 600 f/11 instead.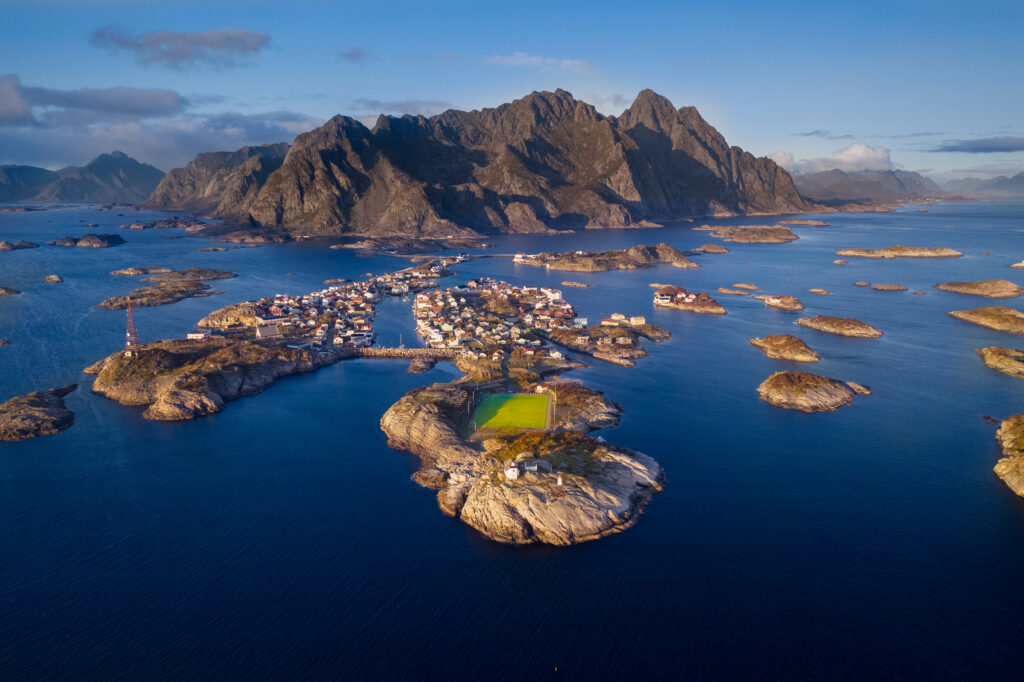 I would not be able to create the content I am for TheTravelBook and our partners, without a drone.
The footage I'm able to capture with the drone is simply adding an element to our productions, which takes them to a different level.
I enjoy creating slow and cinematic video content, but with the add-on from the drone footage, I can mix everything up, without it being boring to look at.
I've attached a video below that I created from Norway to show you an example of how I use the drone in video content.
The camera inside of the drone has also developed extremely much, during the past couple of years, which makes the quality of the pictures even good enough for prints.
Below you'll find some of the extra equiptment I've purchased for my drone and can highly reccomend.
Remember to get insurance and a proper license before flying your drone. Each country has different regulations and laws. You can read about the laws at UAV Coach.
A tripod is an absolute must-have for many different scenarios in photography and videography.
I mainly use the tripod for either long-exposure captures with ND filters or during night time, taking astrophotography of the sky, stars, or northern light.
The Tripod is also a must-have if you like to take timelapse, which is a great feature I often use in my productions.