Rorbu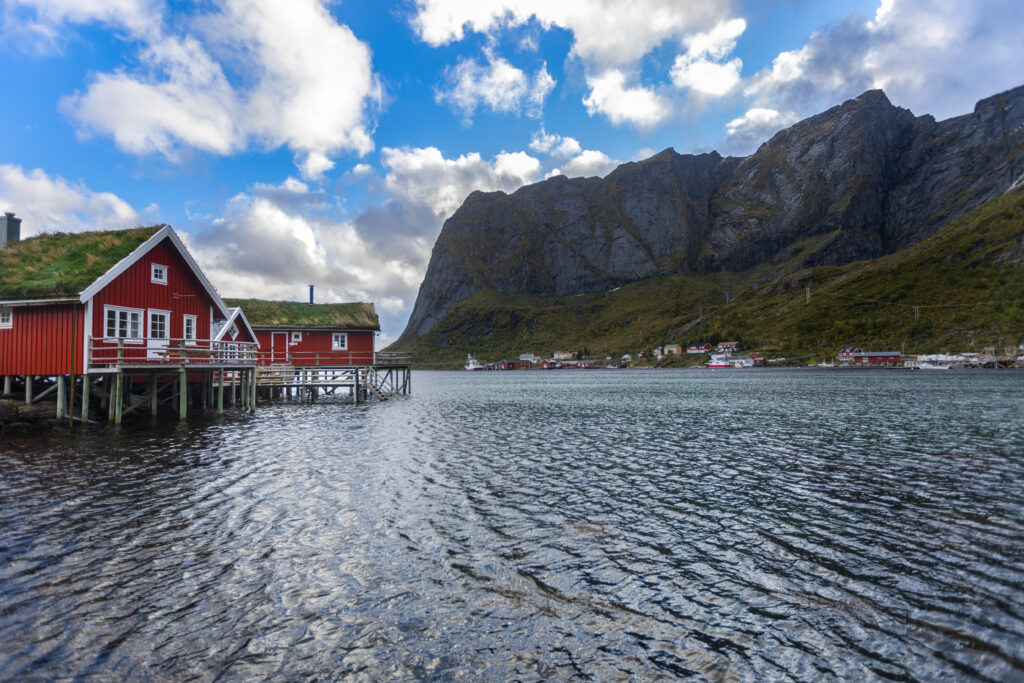 When you arrive at Lofoten you'll see the name Rorbu, as often as you see the sign 'Ausfart' while driving on the german autobahn.
A rorbu is a traditional and seasonal house in Norway. A Rorbu was built for fishermen and therefore often located at fishermen's villages, with houses on polls in the water. This construction was perfect because the fishermen had easy access to their boats, laying right in front of their house.
These days the rorbu is mainly used as a fun a different type of hotel for tourists. The fishing industry is still huge in Lofoten, but the rorbu you'll find along your way is used for tourists and as hotels.
Reine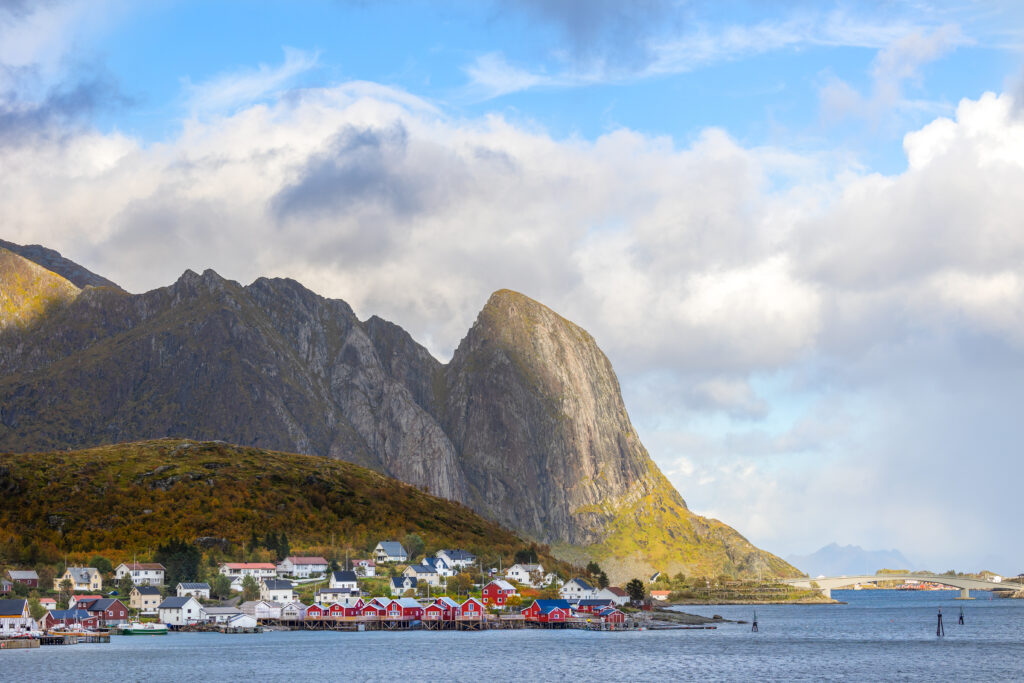 Reine is most likely the city you've seen on pictures if you have Google Lofoten or looked on Instagram. The dramatic mountains surrounding Rine on one side and the majestic ocean to the other side makes Reine a very iconic spot at Lofoten.
Reine is one of the 4 remaining fishermen villages left on Lofoten.
If you arrive with the ferry from Bodø you arrive in Moskenes located just a few kilometers north of Reine. This means that Reine will also be the first village you see if arriving by boat to Lofoten.
Reine is located almost at the very end of Lofoten, which means if you're living around Svolvær or Henningsvær you have a 2 hours drive (each way) to reach Reine. As mentioned in the introduction, you shouldn't underestimate the distances at Lofoten.
Svolvær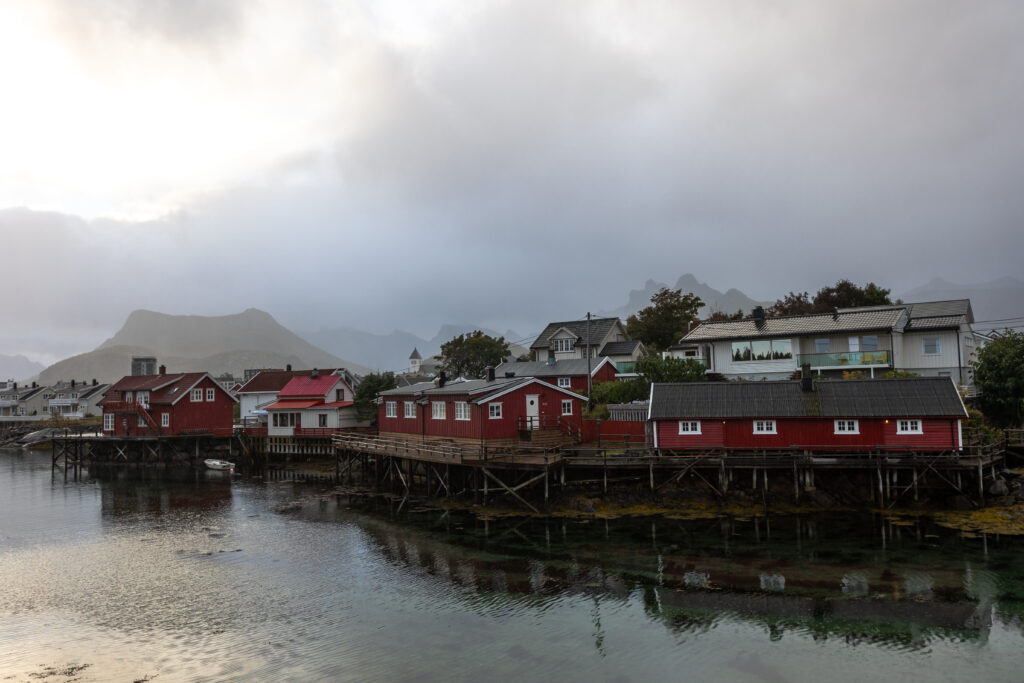 Svolvær is the capital of the Lofoten islands.
As with any other capital, Svolvær has anything you need, supermarket, shopping mall, a city center with shops, a historic center, restaurants, and hotels. My impression was that Svolvær wasn't a very organized city in the way that it seems things were placed a bit randomly. There wasn't a cute little street with old fishermen's houses or a street just with cafes, shops, and restaurants. In many ways, I didn't find Svolvær very pretty and I mainly used Svolvær when I needed to go shopping. Svovlvær
Lofoten Apartments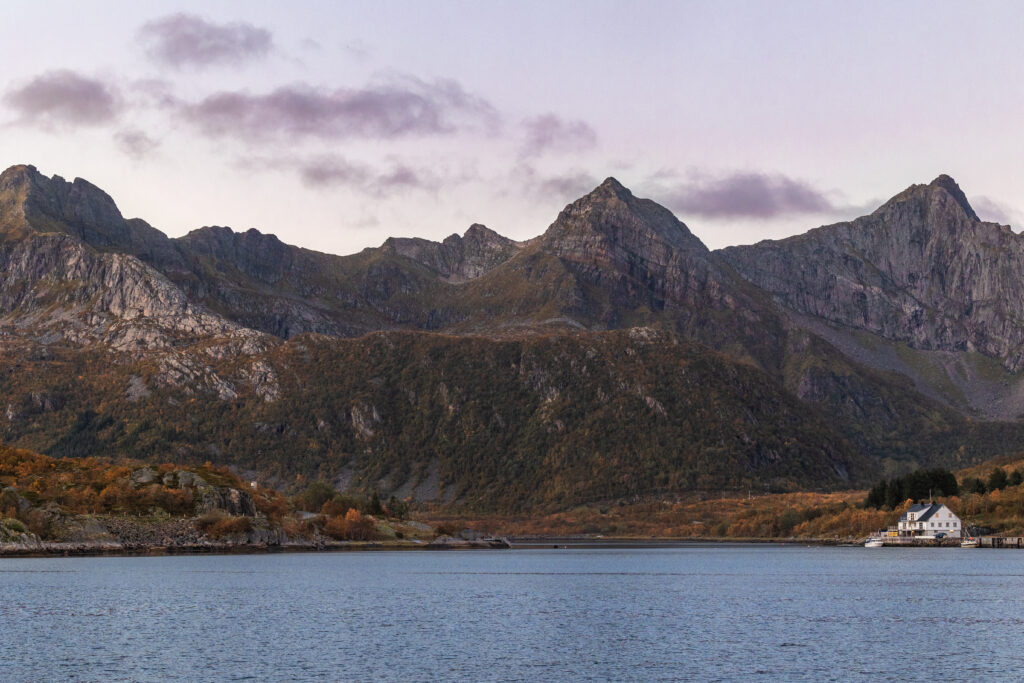 Lofoten Apartments is located directly on the water at the tiny village called Hopen in Lofoten, about 15 minutes drive from Svolvær. Besides being surrounded by stunning nature, this little village has a great history.
Back in the 1940's, this fjord was filled up with fishermen's boat, and Lofoten Apartments as you see in the picture above used to be a fishermen's house.
Nowadays there are only a few other houses left in this fjord, but there is nothing in front of Lofoten Apartments to ruin the incredible view and feeling of being left alone in the wilderness.
It's not difficult to see that Frederikke & Erik and has spend a lot of time, effort, and money to make this place a small hidden gem of Lofoten.
Frederikke & Erik are simply the kindest and most warm people you can imagine. If it wasn't because they were fully booked, I would have stayed longer than my 2 weeks.

I can honestly say that there is no place on Lofoten I would rather stay, than Lofoten apartments, and I cannot wait to return!
The complete house is all newly renovated, but you still feel very much at home in the apartments.
The house is divided into 3 apartments. All with their own entrance, kitchen, bathroom, and so on and if different sizes. It is also possible to rent the complete house and there is a room for private dining in the basement.
The pictures you see in the gallery below are from Apartment 1 which I stayed at.
Henningsvær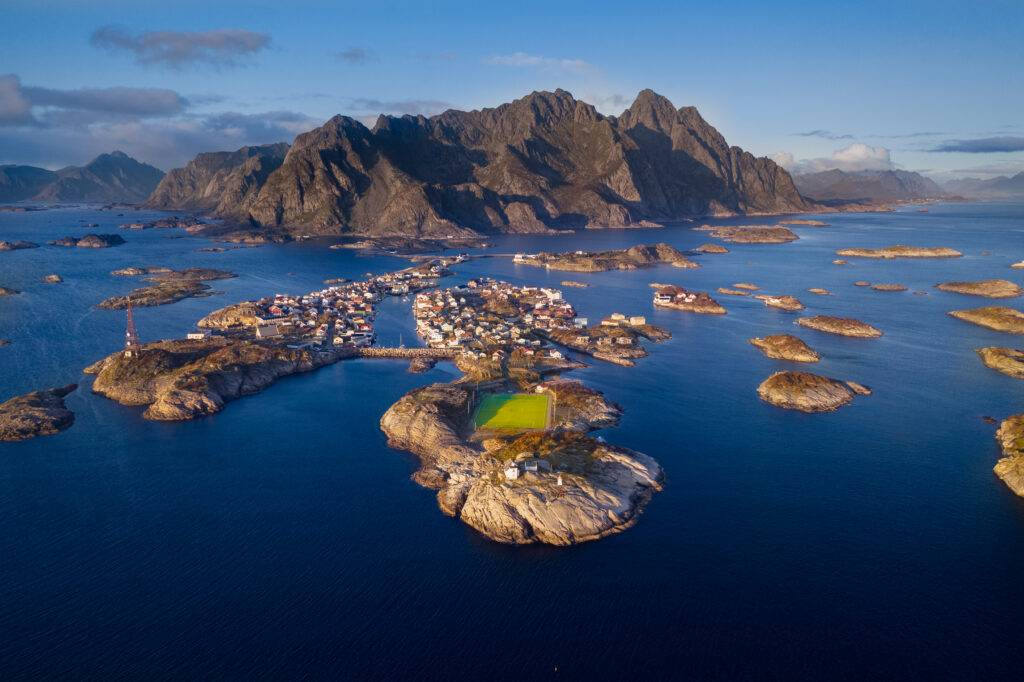 Henningsvær is one of the 4 remaining fishermen's villages in all of Lofoten. The drive on the way to Henningsvær magnificent! You're driving alongside the beautiful ocean while the stunning mountains are rising up next to the road. You'll also cross two very narrow bridges to get to the Henningsvær. There is a small city center with a handfull of shops, but there are also creative and cultural hotspots such as TreVareFabrikken and KaviarFactory.
Besides that, it homes to one of the most iconic and famous soccer fields in the world. I'm not quite sure how well the soccer team Henningsvær IL is doing, but I'm pretty sure I couldn't concentrate playing on a field like this.
The mountains in the back is a beautiful hiking track 'Festvågtinden' that I have described further down, in this blog post.
Haukland Beach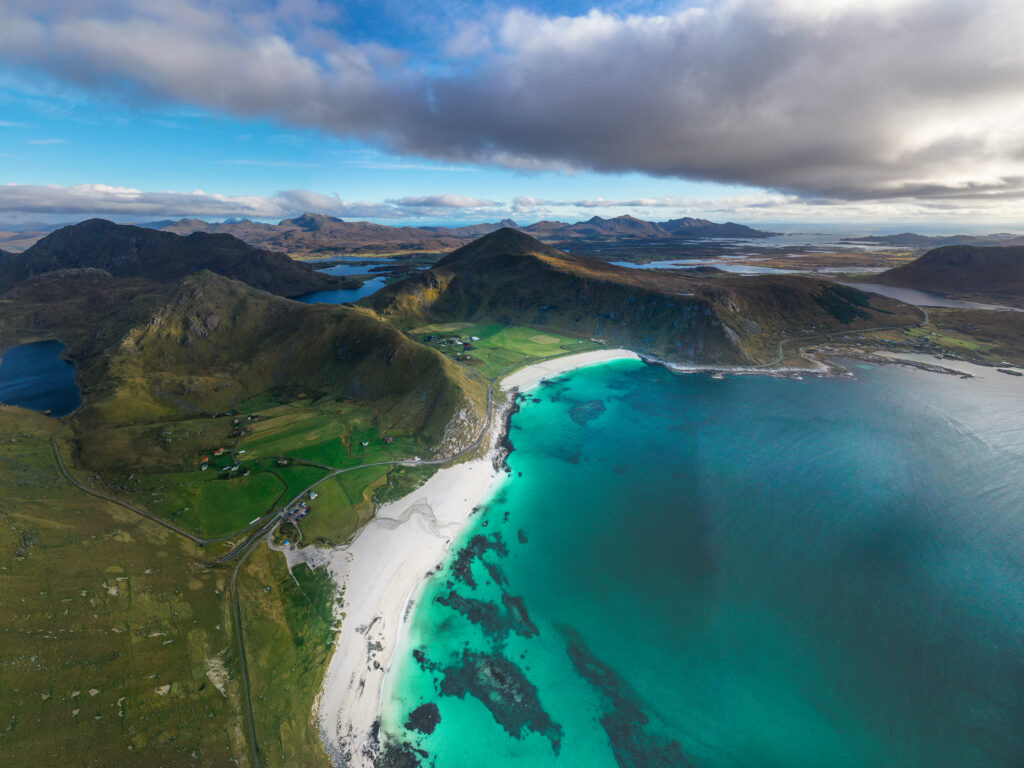 Haukland beach is in my opinion and absolutely must see while being on Lofoten islands!
The white sand and clear turquoise water is an absolutely wonderful sight. It's almost like it doesn't belong to an island located above the polar circle.
There is a hike up to the mountain Mannen which is located between, in my opinion, two of the most beautiful beaches in all of Lofoten. Haukland Beach on one side and Uttakleiv beach on the other side
Festvågtind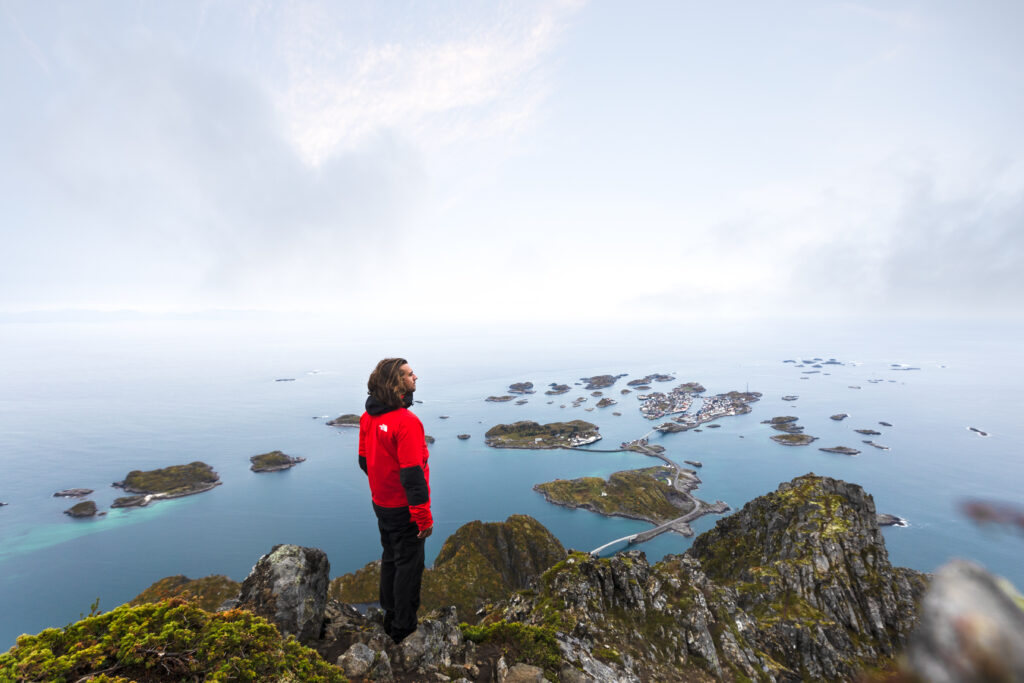 Festvågtind was my first hike at Lofoten. I always try to do some research about the hikes before going out, to make sure that I'm able to complete the hike. Everywhere I looked, this hike was classified as a 'moderate hike', 1.5 km and about a 2 hours hike, and about 540 meters tall.
To me, this sounds like something I should be able to complete with no issues since I'm in a normal/good shape.
The first issue for me was to actually find the starting point of the hike, and twice I accidentally started on two different hikes which were obviously wrong.
This may be all sound very negative to you all, but I promise you the view from the top is all worth it! I'm not trying to scare anyone.
However, I do believe that it's very important to make sure you find a hike which is matching your expectations – but most people can definitely do this hike.
You can park the car here for free and then walk about 500 meters down the road (not towards Henningsvær) and start your hike here.
Fredvang Bro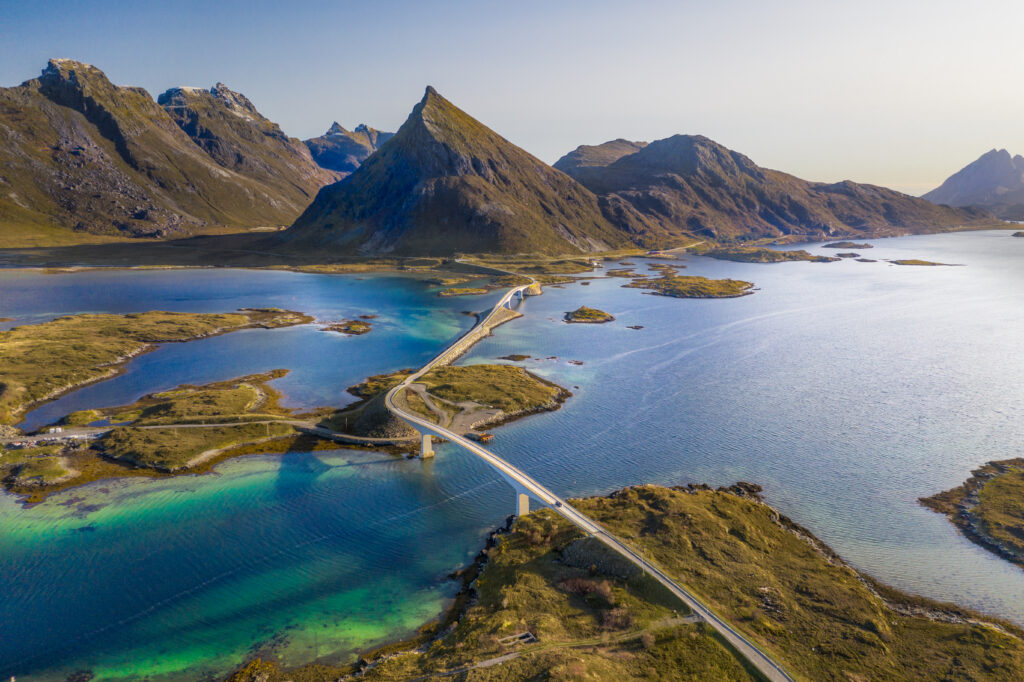 Fredvang Bridges are the bridges that connect Fredvang on the island of Moskenesøya with the island Flakstadøya.
The water below the bridges has the beautiful turquoise color and the dramatic mountains are watching over this stunning fjord.
These are also the bridges you will cross if going to Kvalvika beach that I'm describing in the blogpost below.
Kvalvika Beach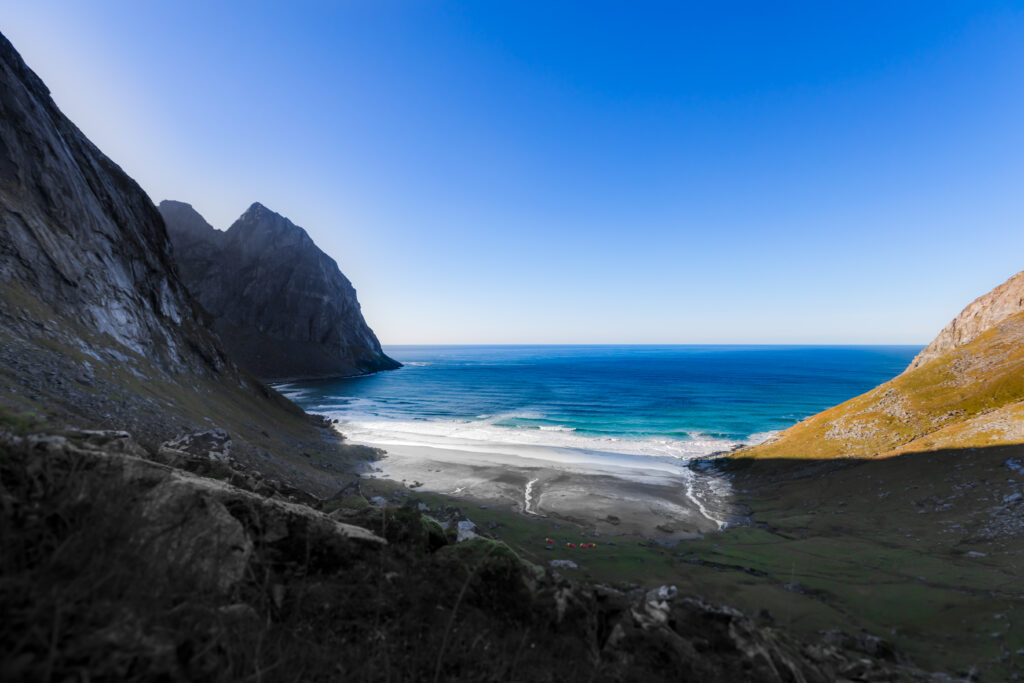 I had been on Lofoten islands for about 1 week before I went to Kvalvika Beach. When you reach Lofoten, you will see for yourself that you get overloaded. with beautiful sceneries and mindblowing landscape. This is maybe also why Kvalvika beach didn't live up to my expectations. This is one of the most hyped places in Lofoten and according to a lot of people a 'must-see' location. My honest opinion is that if you only have a few days around Lofoten, you should priorities some of the other great hikes or destinations.

However, the hike is pretty easy, it doesn't take a lot of time and you don't have to drive far to get here.
I did the hike on a beautiful autumn day with a clear sky and sunshine. To me the hike it self was just not very interesting, and I think the beach of Haukland was so much prettier. The hike from the beach and back to the car was quite pretty with a great view though!
Be aware that there are only 15 spots to park the car, at Bergland Parking and you are not allowed to park by the road – the police will give you a fine.
Lofotr Vikingmuseum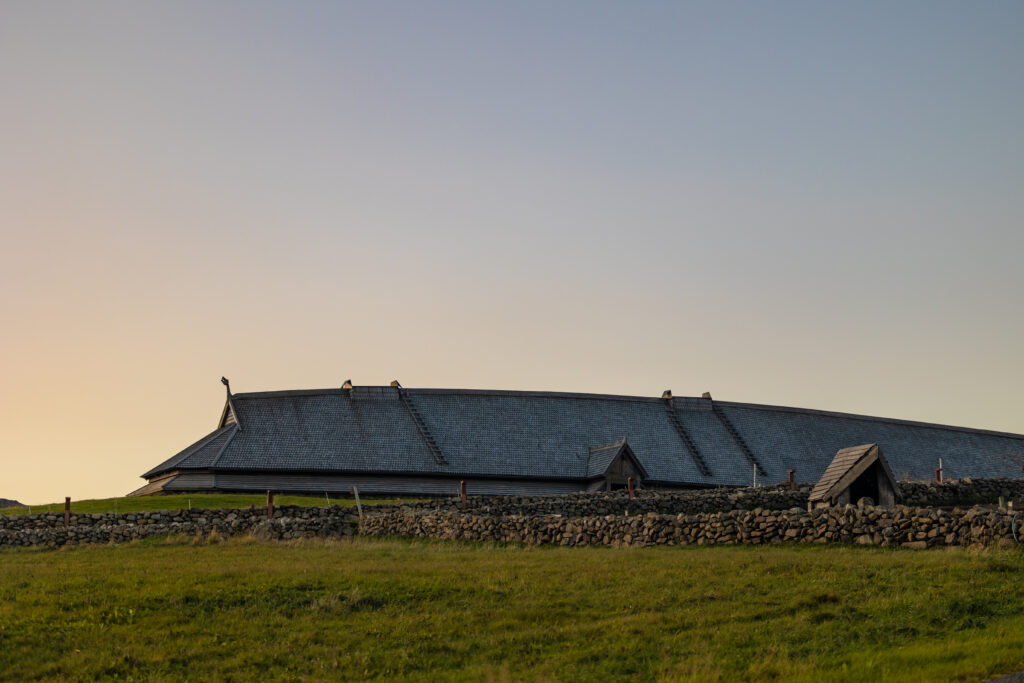 At the Viking museum Lofotr you can travel more than 1000 years back in time, and explore everything about the Viking age.
The world's biggest longhouse from the Viking Age has been discovered at the location Borg, in Lofoten. The beautiful longhouse has been reconstructed to give you the most authentic experience of how it was back in the Viking age.
During the summer the Viking museum is open for many great activities so you can try to be a Viking for a day. You can do horse riding, sail or row a Viking ship, throw axes or shoot with bows and arrows.
There is also an anual viking festival that runs at the beginning of August every year. During the festival, you can explore the market or watch battles between the viking, along with concerts and competitions.
Nusfjord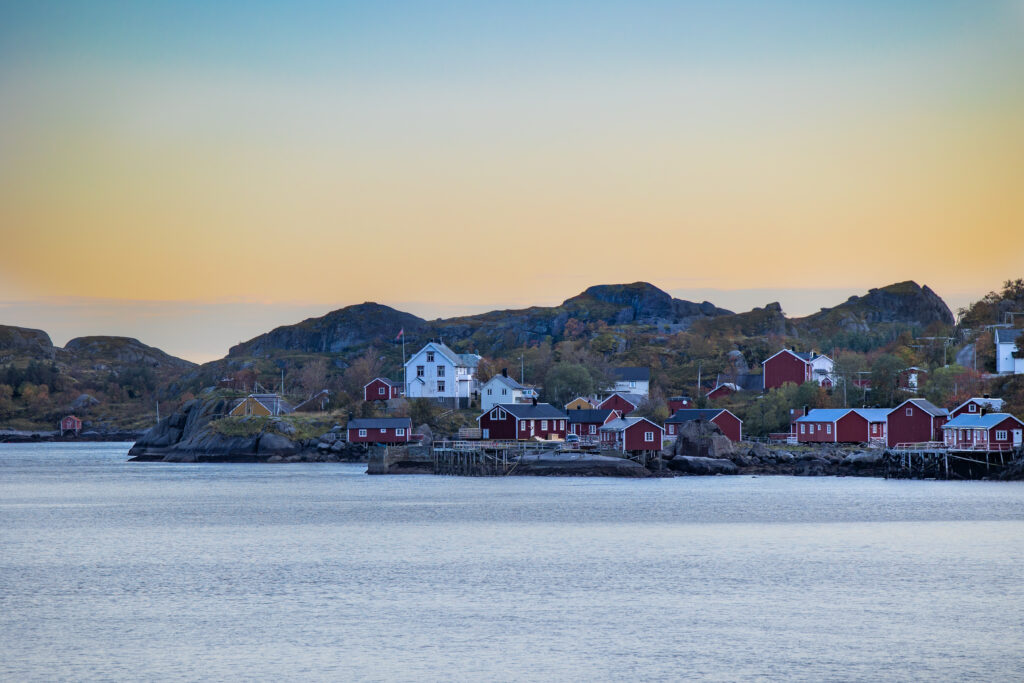 Nusfjord is one of the 4 remaining fishermen's villages in Lofoten and is in my opinion the best-preserved one of them. There are only about 25 people living in Nus permanently, but during the fishing season, there is a ton of boats here!
The drive from the E10 towards Nusfjord is incredible!
There is a lot of history around Nusfjord, and there have been found traces of people living at Nusfjord back in 425 BC.
If you want to have a look into the old and true history of Lofoten, you should definitely stop by Nusfjord.

Ramberg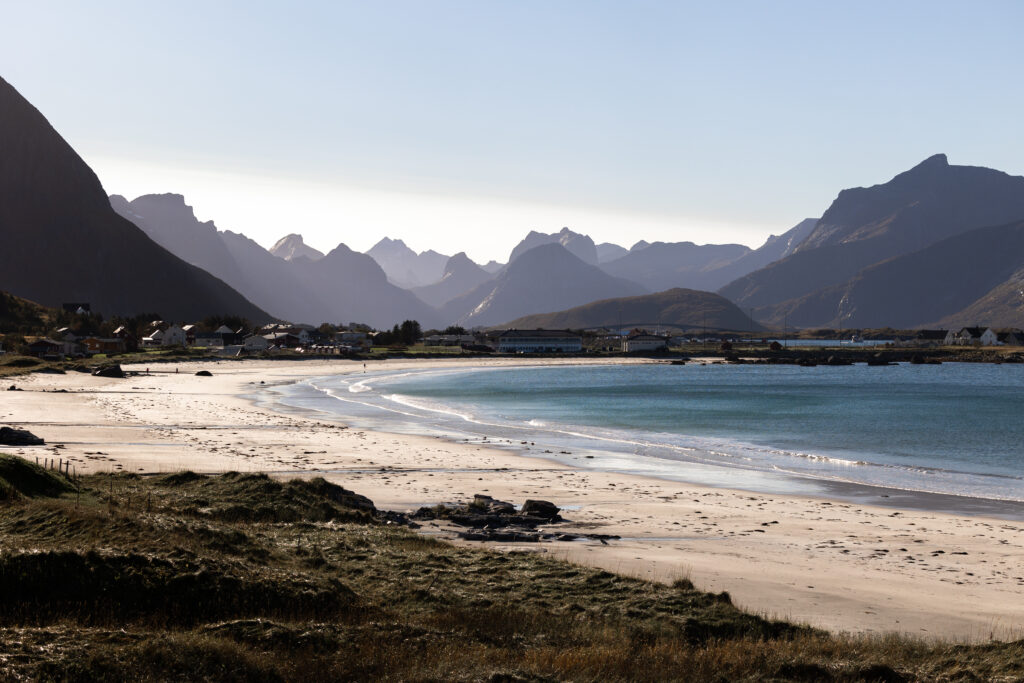 Ramberg is a city you will pass by if driving on the E10 from Svolvær to Reine. Most possible just pass by this lovely viewpoint and don't take the time to stop up and take a walk on the beach. Which everybody should do!
There is a small city center at Ramberg and you can find some food at one of the local restaurants of cafes, but my recommendation would be to take a walk on this beautiful beach.
Aurora (Northern Light)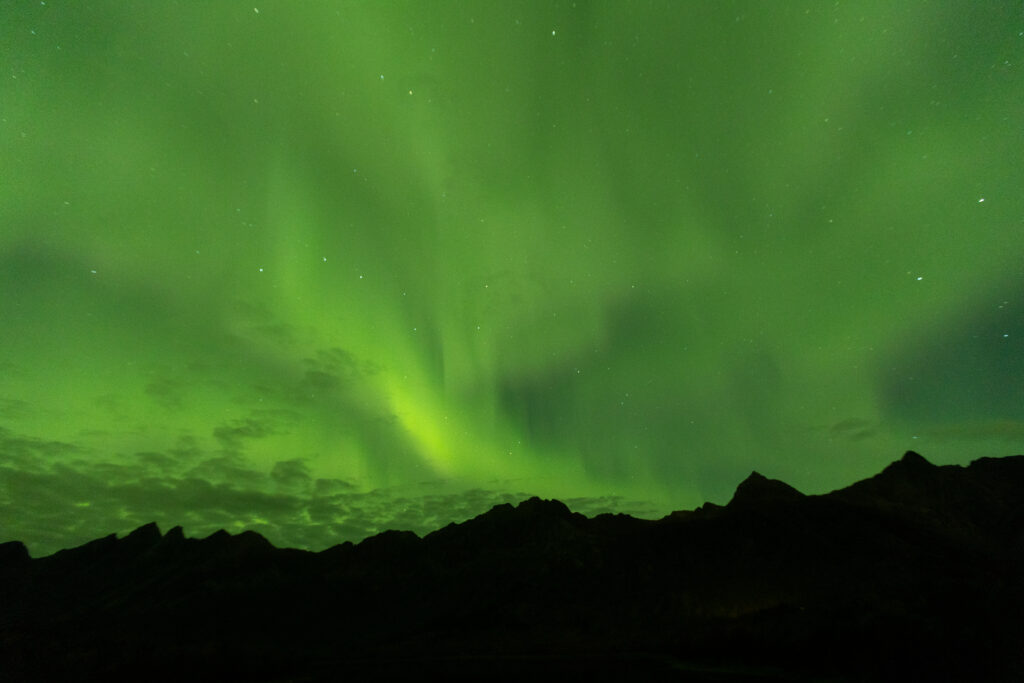 Lofoten is a perfect destination to watch the mindblowing natural a phenomenon, Aurora Borealis – also known as Northern Light.
This is an experience that should be on everybody's bucket list. I can't be more clear about how incredible this experience is, and I bet that everybody who's ever seen it – still remember exactly how fantastic it is!
I have created a guide on how to spot the Northern Light, where to look, and also tips if you want to capture the Aurora in Lofoten on camera.
You can find the guide here.
Surfing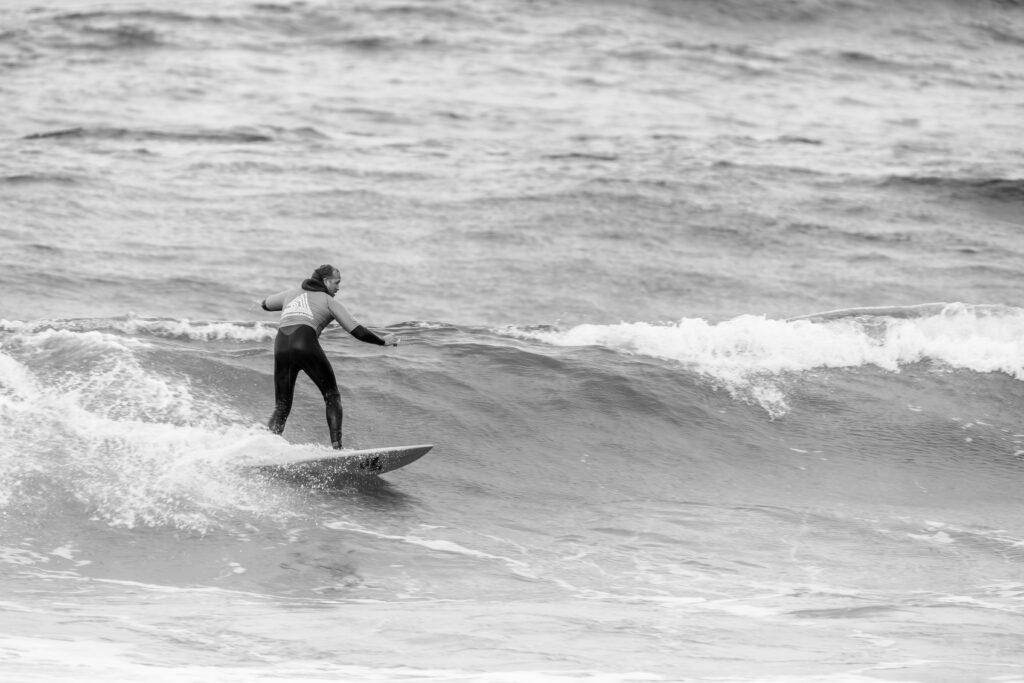 A lot of younger people around 30, has most recently found the refreshing lifestyle and stunning nature so fascinating that they have decided to move to Lofoten.
Lofoten is great for all outdoor activities, such as hiking, skiing in the winter but surfing all year round.
It's true Vikings who goes out in the arctic ocean for surfing doing the winter on the rocky shores. There places for beginners and they have several surf camps if you want to learn to surf at Lofoten.
Lofoten is also home to the northernmost surf competition in the world called 'Lofoten Masters' which takes place in September every year.
Å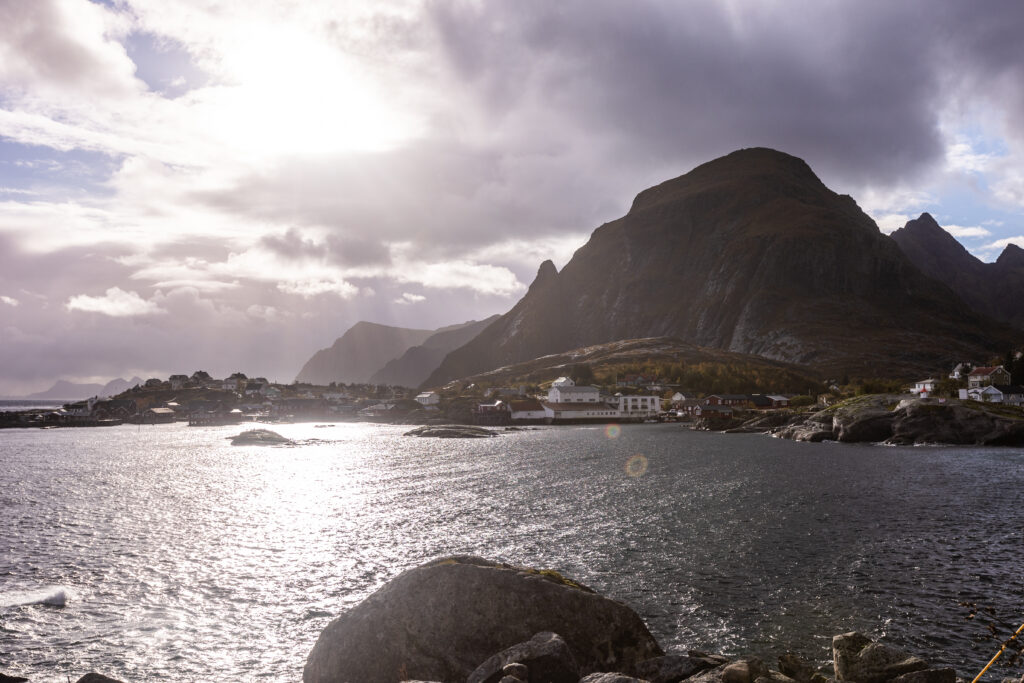 Å is the last letter in the Scandinavian (DA, NO, SE) alphabet and it's also the last stop at the very end of Lofoten. It's located about 20 minutes' drive north of Reine and has about 120 inhabitants.
Å is a small fishermen's village and a fun place to stop by. As mentioned earlier in the blog post, the distances can be big in Lofoten. If you are staying around Svolvær, I would say it's not worth the extra 40 minutes drive to visit Å.
Sea eagles and Orcas (Killer Whales)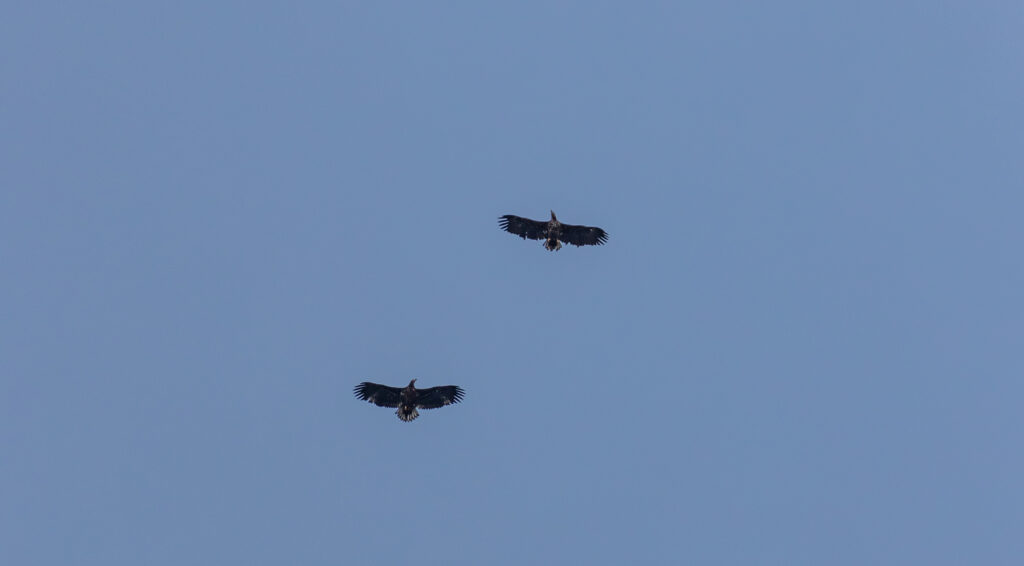 Lofoten is home to some truly spectacular creatures! Most likely because of the remote location, a small number of inhabitants, and a ton of mountains and wilderness.
During my drive from Narvik to Lofoten, I was pretty surprised when a Sea Eagle with a wingspan larger than 2 meters flew right above my car. I thought this was a once in a lifetime moment and quickly jumped out of the car. But apparently, this bird isn't very rare to spot here in Lofoten.
Another special bird is the Puffin bird which you can find at the island Bleiksøya.

Because of the Gulf Stream, the winter climate in Lofoten is fairly mild, and the oceans never freeze to ice. This also means a lot of herrings are going to these waters which are perfect feeding for the Orcas (Killer whales).
You can go on an Orca Safari from the 1st of November to the end of January.

You can find plenty of different organizations arranging trips around Lofoten. I would suggest looking at the website of the local tourist agency.
National Tourist Roads of Norway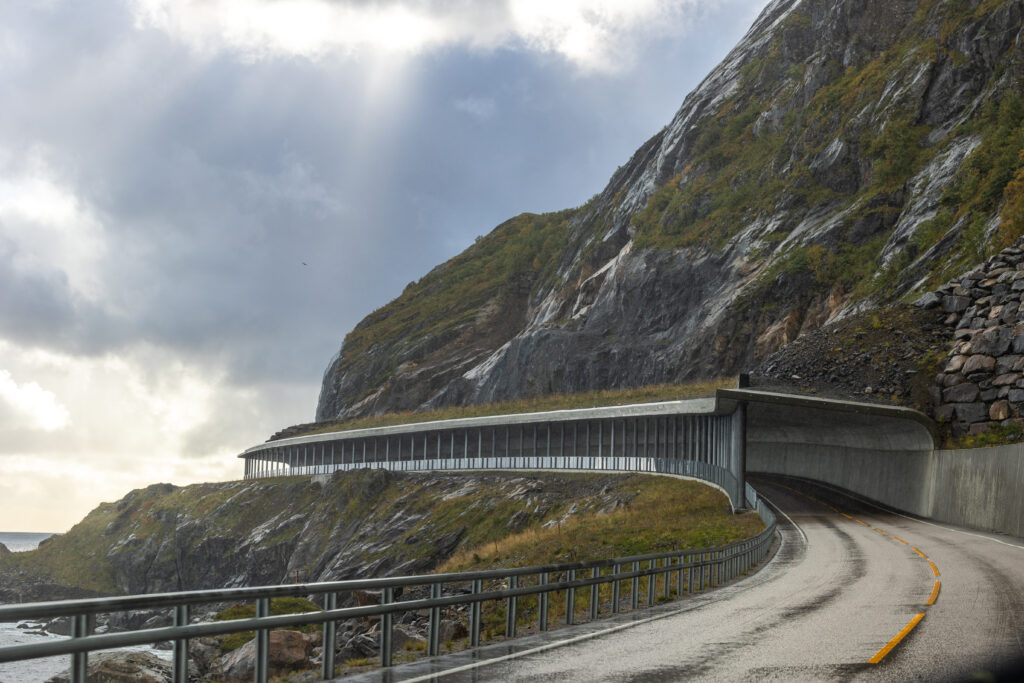 In Norway, there are 18 roads where Norwegian architecture and design are interacting with nature and landscape.
These 18 roads are all very special in their own way. One of the National Tourist Roads is located in Lofoten and is stretching across 230 kilometers, which is pretty much all of the E10 at Lofoten.
During our trip around the southern part of Norway in 2019, we drove at several of the National Tourist Roads that you can find in the movie below.
How to get to Lofoten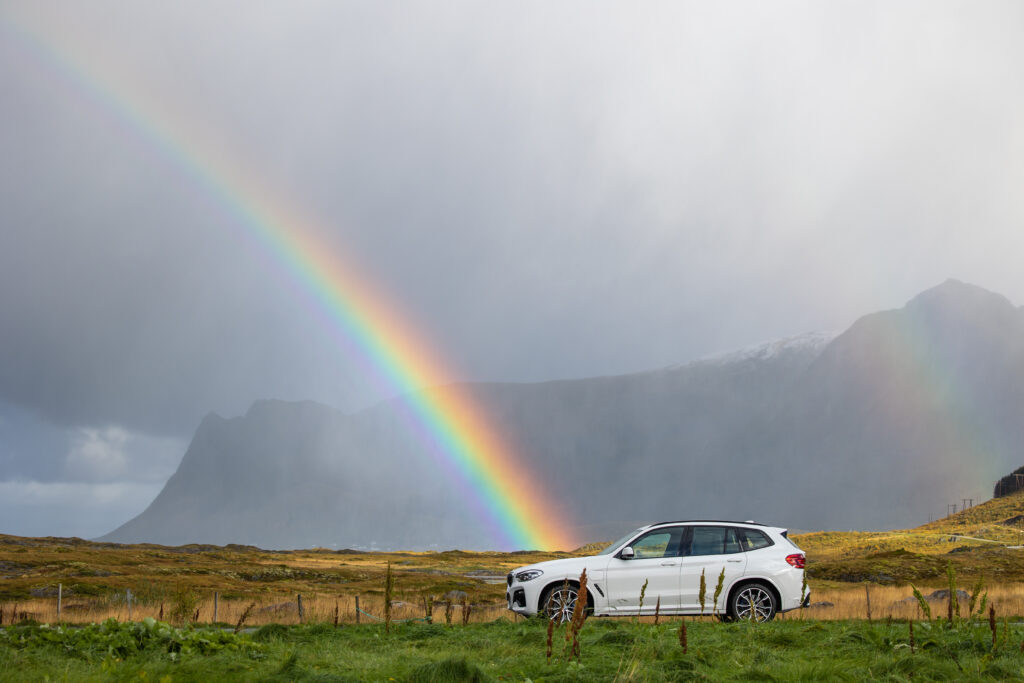 Lofoten is a bunch of different small islands in the very northwestern part of Norway. There are several ways to get to Lofoten.
I drove up through Sweden, into Narvik, and continued out to Lofoten. this is a long drive and a stunning road trip, but obviously, this is time-consuming.
If you are driving up in Norway you can take a ferry from Bodø-Moskenes in Lofoten. The ferry ride takes about 3 hours and costs 1100 NOK.
There is also an electric train driving through Lapland and the beautiful Abisko National Park in Sweden which I also stopped by – one of the most stunning places I've seen!
There are also several airports located at Lofoten island, but as you know we do not cheer for the flight industry, and therefore we won't recommend that as an option 😉