This blog post is an overview of a bike vacation through Scandinavia. More specifically Denmark, Sweden, and Norway. We hope this will inspire your next eco-friendly adventure! As you know, we have a huge love for the Scandinavian summer! The days are long and full of light and the dark is almost nonexisting through the nights. Nature is so colorful and lively, birds are chippering and there is a nice smell of saltwater all over the coastlines. We grew up on the coast of Denmark, and we have the most precious memories of the beautiful nature and amazing summer atmosphere here. There is something really special about this place and just thinking about it makes me miss home.
A bike vacation through Scandinavia
One thing we have never done before, but might be doing this summer is to go on a bike vacation from Copenhagen, Denmark, to Oslo, Norway. The route runs from Copenhagen up the east coast of Northern Zealand to Elsinore. From Elsinore, you take the electric ferry(hell yes!) to Helsingborg and cycle from here up the west coast of Sweden to Göteborg. From Göteborg you will pedal on to Oslo. This means the route actually goes through both Denmark, Sweden, and Norway. It is the perfect opportunity to discover all three Scandinavian countries and experience the difference between cultures and nature. It is also the perfect route to experience some of the most amazing cities in Scandinavia in our humble opinion. They all reflect very unique history, culture, art, people and cuisines.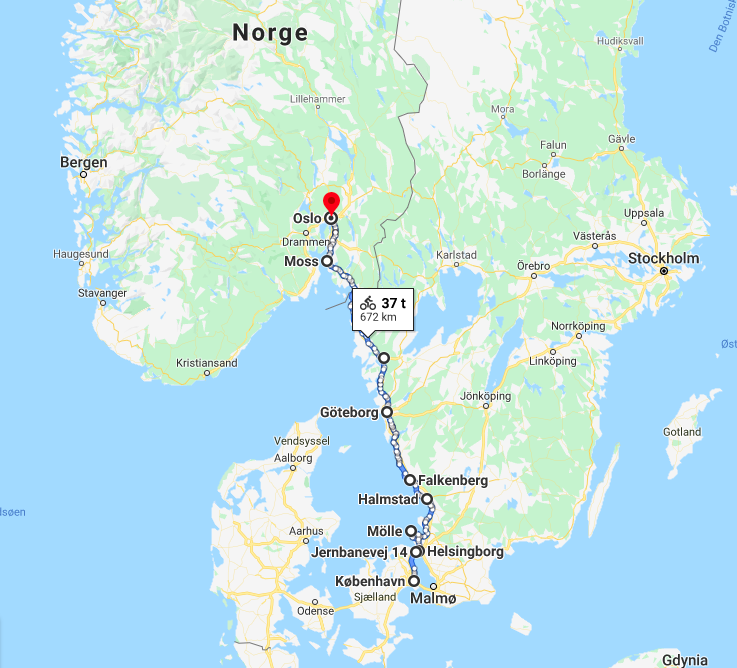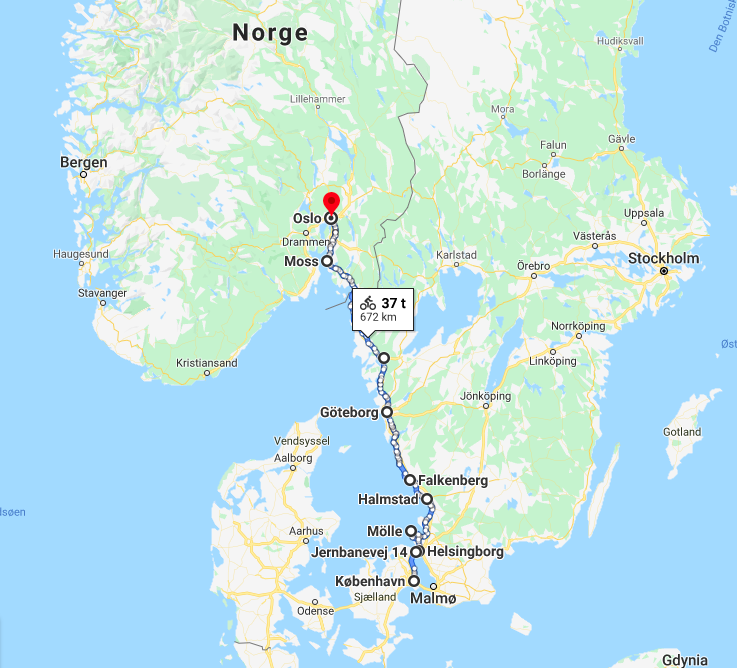 A flexible route
We expect the whole journey from Copenhagen to Oslo to take three weeks if you want to take it super slow and really soak in the experiences on the way. The entire bike route is approximately 670 km and if you make the trip a three-week journey this means you will cycle about 220 km every week and 30 km every day on average. This seems manageable, even if you want a few rest days in between(says the girl who has always biked everywhere since she was 7). You can stop anywhere along the route to visit specific towns or attractions. You can even choose to alter the route and start in Elsinore or end in Göteborg if you don't have that much time on your hands. If you are young or just in good shape you could even do the whole route in just one week to challenge yourself and a friend. The best part is, that there is a great train system that runs along the route, where you can bring your bike. So if you get tired, you run into bad weather or the route is actually taking longer than anticipated, you can just jump on the train! You can see the train route here. There are also trains stopping in Elsinore and Helsingborg(parted by the electric ferry), so don't stress if this is where you run out of energy.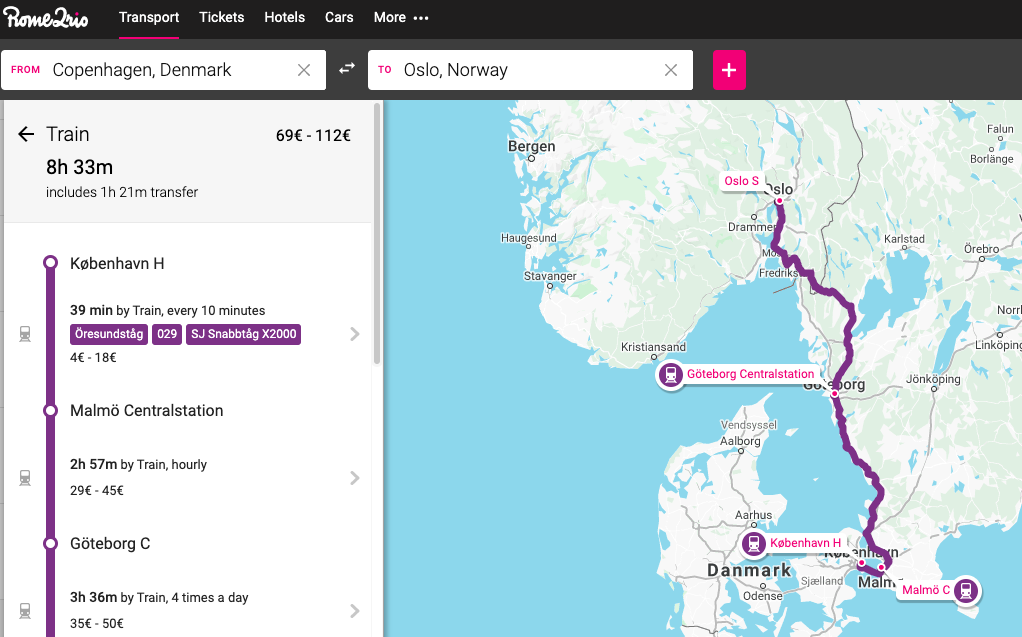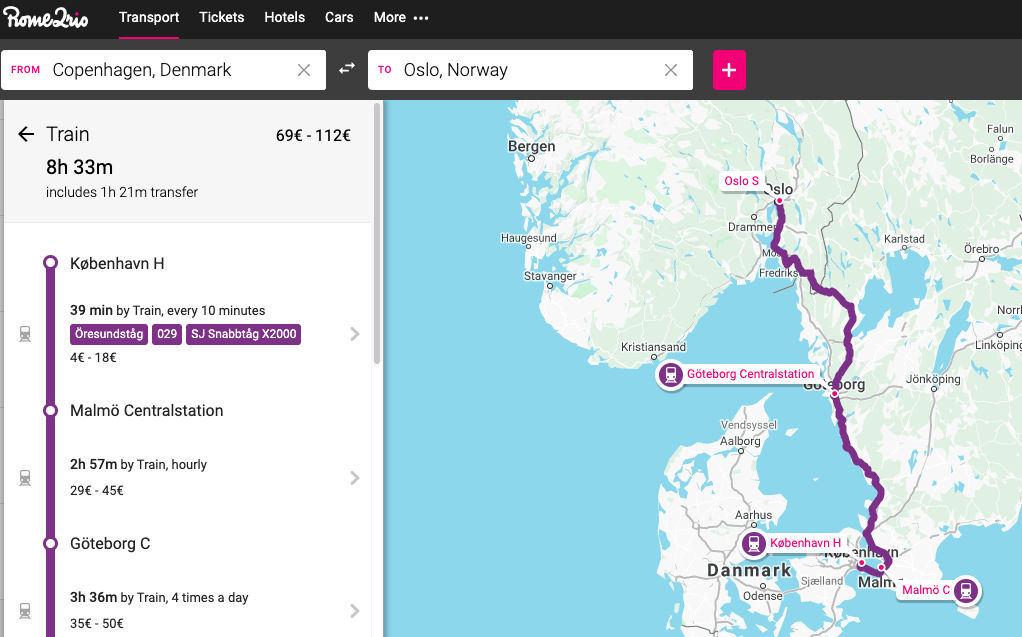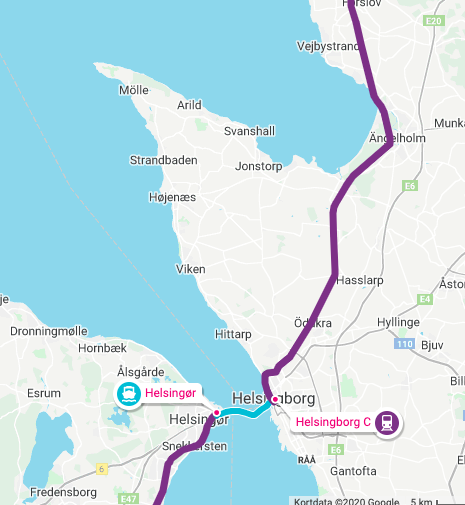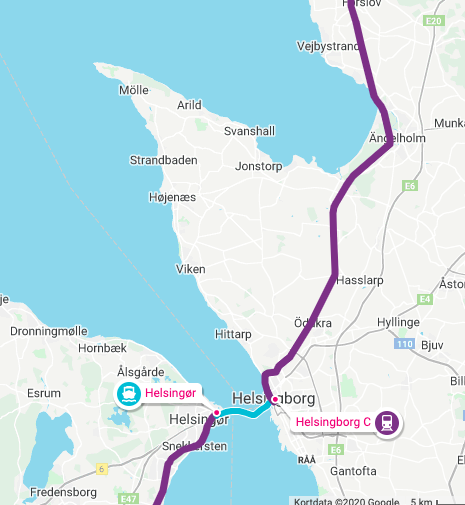 Cities, small towns and attractions along the route
Some of the more obvious stops along the route are Copenhagen, Elsinore, Helsingborg, Göteborg, and Oslo. These are some of our favorite cities in Scandinavia and they are absolutely wonderful to stay in during summertime! All the cities have a rich history and they offer a lot of different attractions.
However, we want to highlight Elsinore, which is actually the city I (Karoline) grew up in! Here you could stay at our favorite spa hotel Marienlyst Beach Hotel, visit Kronborg and go exploring at the Danish Maritime museum – a museum Rasmus has stayed at from opening hours to closing hours twice with my dad! On your way from Copenhagen to Elsinore, we also recommend you to take a lunch break at Louisiana, which is a museum of modern art. Louisiana is located in Humblebæk, which is a little town on the coast of Northern Zealand. The museum displays some of the world's finest art, and the view from the museum is one of the most beautiful views on the entire coast. The cafeteria at the museum is actually really great and serves fresh healthy dishes.
We also want to highlight the small town Mölle in Skåne, Sweden. This small part of Sweden is like the poster child for local Swedish towns with happy summer vibes. Nature here is so unique and different from Denmark and there are many great hiking and bike paths around the area. We stayed have stayed at a few different accommodations in Mölle and Skåne county, and we have only had great experiences. In Skåne you can even go whale watching and rock climbing – so there are enough activities to do if you are not already tired from cycling!
Honestly, there are so many different small towns on the route, and you should definitely use some time on researching the opportunities on the way to make it your personal route. This was just to give you an idea of what you can experience on the route.
We hope we have inspired you to consider going on a bike vacation next time you are going traveling. I sincerely hope I can persuade Rasmus to jump on the bike with me. Let's see what happens!