This blogpost contains affiliate links
We are based in Copenhagen, Denmark.
It takes around 1 hour to get from Copenhagen to the southern part of Sweden called Skåne. Even though the distance is no longer, a lot of people never visit our beautiful neighbors in Sweden.
Nowadays, traveling away from home for only one hour is not exotic enough and therefore people often aim for magical destinations across the world.
We wanted to show what a beautiful and exciting experience it can be to only travel a short distance. This is the reason why we spend a week in beautiful Skåne. This is also the reason we will spend 4-5 weeks in our home country Denmark on our Danish Adventure.
It´s incredible how landscape, culture, people, and food can change just 1 hour away from home.
Our foreign friends Till and Adrian joined us for this trip.
ForSea
There are two ways to travel to Skåne from Copenhagen. One way is by the 'Öresunds bridge' that connects Copenhagen and Malmø. The other way is by ferry from Helsingør to Helsingborg. ForSea is the company that runs the ferries and most recently they implemented several electrical ferries – a great sustainable innovation!
You can book your ferry tickets here.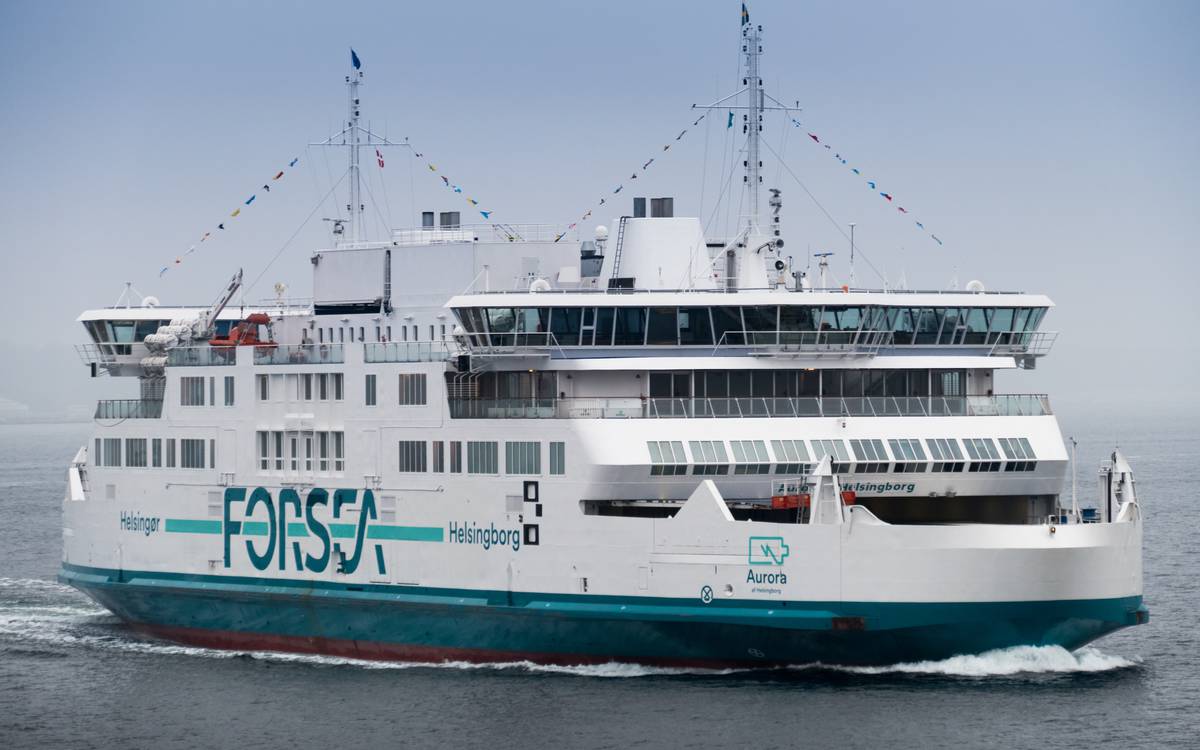 Mölle and Grand Hotel
Mölle has an incredible history!
About 100 years ago men and women were not allowed to swim together. Mölle was the first place to create a beach that allowed all sexes to swim together – which was a great success! Famous and rich people from all over the world came to Mölle to try this unique experience. This is the reason Mölle was the Saint Tropez of the 1900s.
Today only a few of the hotels from the era still remain like the Grand Hotel in the picture below. Besides the summer vibes in the city, you can find great nature, outdoor activities and incredible food experiences.
Mölle Krukmakeri & Café
This place has a lot to offer! Its a restaurant, it's a ceramic studio and its a cool concert spot. The ceramic studio opened up in 1997 and later the restaurant came along. Mölle Krukmakeri is the perfect place to enjoy the summer vibes in Mölle.
We had a salad and smörrebröd at the restaurant as you can see in the second picture. Smörrebröd is a traditional Scandinavian lunch dish. Smörrebröd can have different toppings. The topping on ours was fresh herring, potatoes, eggs, and homemade mayonnaise. We also enjoyed locally brewed kombucha to our food which was a perfect combination!
Address: Mölle Hamnallé 9, 263 77 Mölle, Sweden
Kullaberg
Kullaberg is a peninsula and a nature reserve located in the western part of Skåne and nature here really distinguishes a lot from the Danish landscape. Enormous cliffs and green fields with sheep create a truly idyllic canvas. Within minutes you forget all about the buzzing city life back home.
You will find plenty of different hikes and trails around the peninsula Kullaberg. At times you are walking on trails among sheep and cattle on green fields and the next minute you find yourself on an isolated little beach in a bay. This is truly one of the most beautiful spots of Skåne.
Abseiling in Kullaberg
Due to the incredible nature, Kullaberg is the perfect location for outdoor activities. Besides the great hikes around the peninsula, you can try abseiling. I am afraid of heights but I pulled myself together and I have never tried anything similar to this. We abseiled from a 20-meter high wall and we got help from Emil who was a great guide.
I did not think I was able to complete this due to my fear of heights – but as Emil said "You are only scared the first 2 seconds" and it was true. I can highly recommend this to everybody who visits Skåne.
You can book your abseiling experience with Emil and the other guides at Kullaberg Guiderna at their website: https://www.kullabergsguiderna.se/en/visit-kullaberg/
Whale watching in Skåne
Sweden is sometimes visited by Killer Whales in the north of Sweden. However in Skåne they have Habour Porpoise! Harbour Porpoise is a whale species a bit similar to dolphins and is very fun to watch. Besides getting a view of these incredible creatures, we got to see Kullaberg from the waterside which was a great experience too.
You can book your whale watching experience with Kullaberg Guiderna at their website: https://www.kullabergsguiderna.se/en/visit-kullaberg/
Vejbystrand – Villa Sigrid
We stayed north of Kullaberg and Mölle in a small village named Vejbystrand. The holiday house was a cute Swedish cabin which can house four people. It is located five minutes from a beautiful beach and it is about a 40 minutes drive from Mölle and Kullaberg. This holiday house had a lovely kitchen, a nice bathroom and was roomy enough both inside and outside to have a relaxing holiday in Skåne.
Garage Bar & Ice cream
Skåne is not all about idyllic landscapes and cute little villages.
In Höganäs you can find a hip area named Bruksgatan which has one of the coolest restaurants we have seen in a while: Garage Bar.
You can see the interior and decorations on the pictures below. American The menu consists of BBQ food such as wings and burgers.
And you don't want to miss the delicious ice cream for dessert located right next to it. The name of the ice cream place is Kullabygdens vanilj och choklad. This organic ice cream tastes absolutely incredible and they have a broad selection of different flavors.
Address: Bruksgatan 36z, 263 39 Höganäs, Sweden
Pålsjöbaden
This beautiful outside swimming institution is located in Helsingborg.
The original building was unfortunately damaged by a storm, but Pålsjöbaden has been restored as the original construction.
The small yellow houses are changing rooms and men and women are divided into two separate wings.
They have great sauna facilities with panorama view over the ocean and looking towards Denmark. The water is crystal clear and the bottom is covered by white sand. The facilities are open every month of the year.
NB: This is a place where you swim naked.
Address: Drottninggatan 151, 254 33 Helsingborg, Sweden
Söderåsen
Söderåsen is more than 150 million years old and is a perfect place to take a hike! As soon as you start one of the hikes you feel like being on an exciting adventure. We tried out the blue trail which was around seven to eight km long.

We walked next to a running river and the hillside was covered with massive rocks and cliff formation. It was so beautiful!
At Söderåsen you can experience true wilderness, an ancient forest, steep slopes, and dark rivers.
The main entrance is located: 108, 264 53 Ljungbyhed, Sweden
Pensionat Strömbacken
Pensionat Strömbacken is an eco-friendly B&B which is located in a lovely house. The house belongs to the most adorable couple Elizabeth and Bo. They have lived in the house for 40 years. They love to share the peace and nature that surrounds Strömbacken which is why they decided to open their house as a B&B. They offer overnight accommodation in their three double rooms, food in their restaurant and relaxation in their lovely garden and its surroundings.
The B&B is located in the middle of Östafors nature reserve in Skåne's northeastern corner which is about 20 km north of Bromölla on the border between Skåne and Blekinge. Within a mile, there are many fishing lakes, where you can also rent a canoe or hike.
At the B&B you can find the owners bee-farm where they produce excellent honey. Elizabeth and Bo care a lot about the environment. Elizabeth actually used to work at the green party in the Swedish parliament in Stockholm.
We were also offered the greatest homemade pizza freshly baked in their outdoor stone oven. Could this place get any better?
Ivösjön
Ivösjön is the largest lake in Skåne. At the deepest, it is 50 meters deep and it is 50 square kilometers in total.
There are several smaller islands located in the lake Ivösjön, which makes it perfect for canoeing and the experience of trying to sleep on your own private island!
We picked up our canoe at Wetlandi and sailed about two hours to a small island called Bjärnön. We made our dinner on an open fire next to our shelter and enjoyed a lovely meal in peaceful surroundings.
Even though we went during the summer we had the island completely to our selves – besides the mosquitos! Be aware that during the summer you will find a lot of mosquitos in the night time – so it's a good idea to bring your own tent.

Farmors Lycka
Directly translated to Enligsh Farmors Lycka means 'Grandmas happiness'.
Farmors Lycka is a unique B&B with a personal touch and a beautiful beach and forest right around the corner. Farmors Lycka is still an active farm with animals and huge fields surrounding it. It is run by the granddaughter. The food is made of the local groceries which varies from season to season. This was our breakfast: buckthorn juice, berry flavored yogurt with homemade müsli, scrambled eggs with crispy pork belly, sourdough buns, pickled herring, and tomatoes. It was absolutely incredible!
They have rooms in different sizes with different interior and design but they all fit perfectly to the vibe at Farmors Lycka.