It's finally time! We have been eco-friendly travelers for one whole year now, and we have collected our absolute favorite eco-friendly hotels and made a list for you! These hotels and accommodations are very unique and have all gone out of their way to make their stay as sustainable as possible. These accommodations are so innovative: from what materials the hotels are build of – to what snacks they offer in the minibar. If you choose to stay at any of these places, we guarantee you, that you will never forget this experience! And furthermore, you will become so inspired by their innovative thinking that you might just take something from the experience with you and implement it at home.
We have included several of these accommodations in some of our videos. Click on the embedded videos below to see the footage of the hotels.
The Island Hideout at Koh Yao Noi, Thailand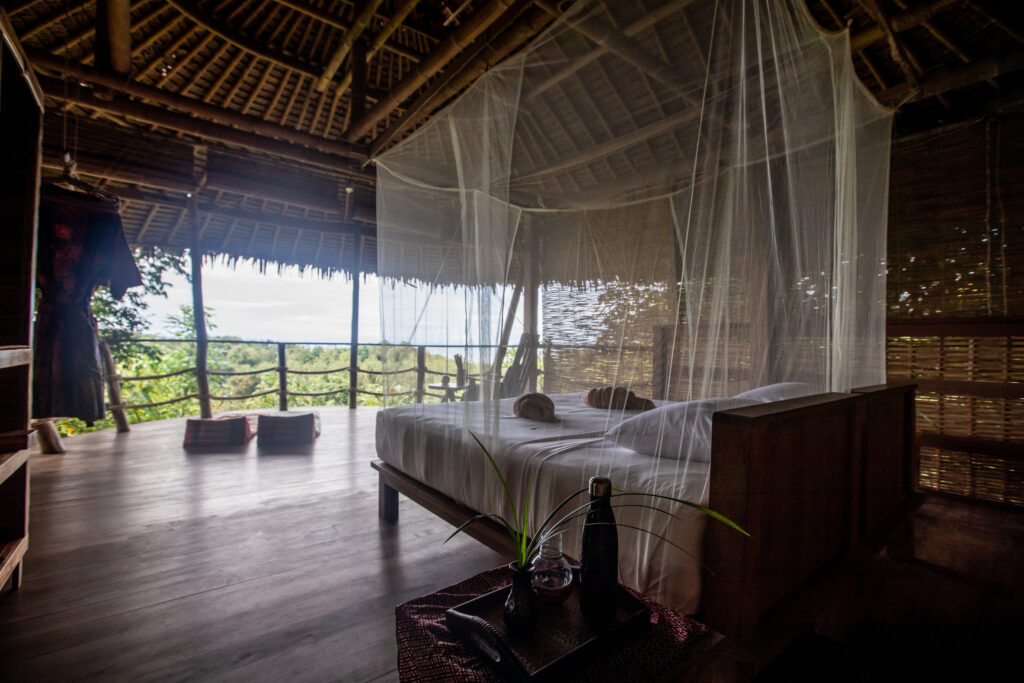 Everything at The Island Hideout originates from the island: the staff are locals, the furniture is made of materials from Koh Yao Noi, and all of the food also comes from different farmers on the island. The bungalows and the main 'building', which are all open constructions without walls, are located in the middle of the jungle on the top of a hill. The constructions have been built so the jungle trees are included features of the resort. No trees had to be cut down because of the construction. There is no electricity in the bungalows. This means there is no wi-fi, no hot water, no air-conditioning, and no electric lights. However, they do have solar-powered and friction powered lights, which allows you to walk effortlessly around at nighttime. The menu at the restaurant is heaven for a healthy foodie. All of their food is from local farmers and it is organic and/or free-range. There are also loads of vegan options. The Hideout really appeals to people who seek a mindfulness experience. Staying in the jungle with no walls knowing that you aren't damaging the beautiful nature is very nurturing for the soul. But if that isn't enough for you to get in the mood, they also offer yoga, meditation and sound healing sessions. This will definitely give you the feeling of mindfulness!
Bergaliv at Vallsta, Sweden
Bergaliv is located at the top of a privately owned mountain in the Swedish forest. It is not possible to drive to Bergliv during the wintertime. Therefore, you need to walk 45 min up the mountain with snowshoes. We did it at sunset, and it was such a beautiful experience. It is the only building on the mountain, so you are completely secluded from everything but nature! The cabin is built of wood from the private forest, and everything in the cabin is made of sustainable materials. There are a sustainable electrical burner toilet and a zink connected to a small water tank. There is no shower in the cabin. Your host will provide you with some small picnic baskets of gourmet food that you are able to store in the small fridge. They will provide you with vegan food if you ask for it. This is the perfect spot for you to disconnect from the modern world, track some animals, and enjoy some beautiful sunsets. We truly loved our experience here.
Arima Hotel at San Sebastian, Spain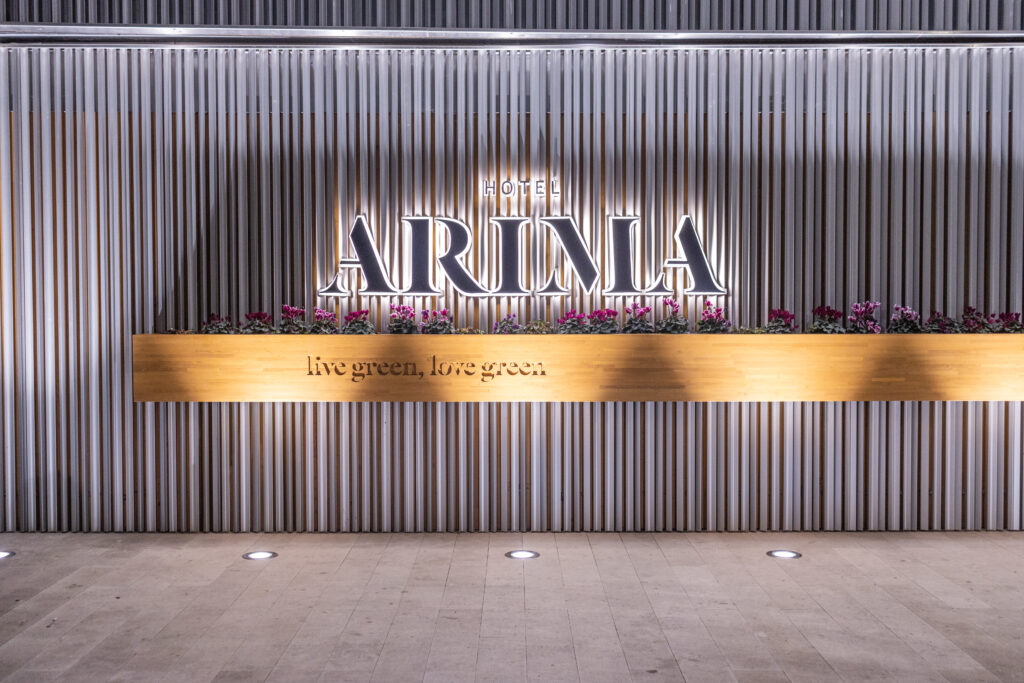 Arima Hotel is build of natural, resistant, and sustainable materials like stone, iron, and wood. This gives the hotel an earthy and rustic, yet soft and warm look. In every room, you will find organic and recyclable amenities(that smells so so good and are of great quality) and healthy organic and vegan snacks in the minibar. Every room even has its own recycling system! The area the hotel is located in (just 5 km from San Sebastian center) is very bike-friendly. We were able to charge our hybrid car in one of the hotel charging stations for electric vehicles. Furthermore, the hotel uses geothermal and aerothermal energy, water collection systems for cleaning, water flow reduction filters, and selective waste management, among others. Their restaurant only serves organic and local foods and the food is SO good. Best breakfast buffet ever!
Juvet Landscape Hotel at Valldal, Norway
Juvet Landscape Hotel is located in a Norwegian national forest just beside a big beautiful waterfall. From the hotel, you have a view of some of the most beautiful mountains in Norway. The hotel is designed beautifully to blend into nature. All rooms are small private cabins located either along the waterfall or up a hill so you have the best possible views from the rooms. There is a spa building with a steam room, a lounge room, and a jacuzzi outside. It is a really beautiful experience to sit in the jacuzzi and look at the amazing view. There is also a yoga studio and a conference room for corporate meetings. The main building is an earthy and rustic looking house, with a living room, a social dining area, and a big terrasse. They serve a big multiple course dinner every night with food from local farmers. The food is excellent and it is quite an experience since it is social dining, which means you are seated at one long table and have dinner with all the other guests at the hotel. Obviously, it is a small hotel so it is a quiet intimate gathering, where you can share your experiences with your side buddy.
We had some of our most rememberable hotel and travel experiences when we stayed at these four unique accommodations. We hope this shortlist will inspire you to stay at an eco-friendly hotel the next time you go traveling. You will not regret it!