This blog post is written in a collaboration with Region Stavanger, but every recommendation in this blog post is chosen by myself and it's my very honest opinion.
It's my 3rd time visiting Stavanger in just 6 months, which also means that these recommendations are spread out over 3 different seasons. In my opinion, Stavanger is worth a visit all year long.
My latest trip was in January 2023 for 3 weeks around the region of Stavanger.

Below you'll find an overview of all the different hotels I've stayed at, the places I have eaten, and some of the local heroes I've met throughout my trip.
Eilert Smith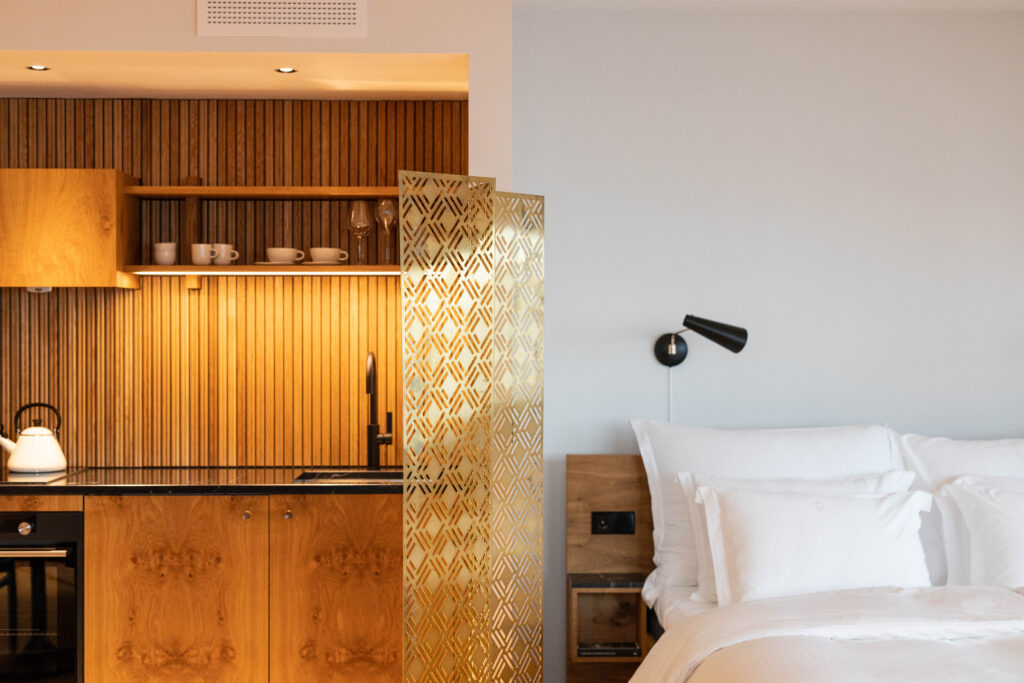 Have you ever stayed, at a hotel that felt more like being at home than being at a hotel?
The doors slowly glide open, when you approach the doorsteps of the Eilert Smith Hotel in Stavanger city center, and this is where your journey begins.
You'll be greeted by the door and already now you're well aware that you won't be missing a thing during your stay.
The level of hospitality and service is in a different league at this unique boutique hotel, which only has 12 rooms in total. Eilert Smith is part of 'De Historiske' a networking group for some of the oldest and best-kept hotels in all of Norway

The look of Eilert Smith might look like it's a completely new hotel. However, this boutique is located in a building that dates back to the 1930s and is designed by the talented architect from Stavanger, Eilert Smith. Back in the day, this building was used by, Felleskjøpet, a Norwegian agricultural cooperative that serves as a retailer of agricultural operating equipment including animal food and seeds.
Instead of tearing down this iconic building located among wooden houses in the center of Stavanger, the current owners The Stensrud Family, decided to hire the architect, Pål Trodahl, to completely renovate this building and make it a unique hidden gem of a hotel.
Hotel Victoria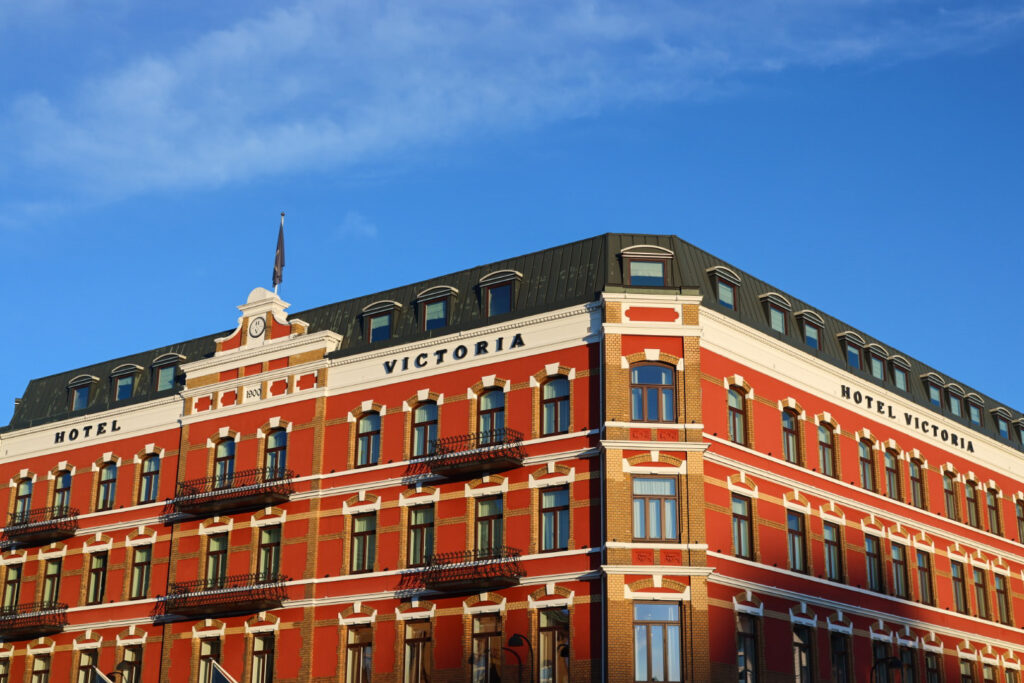 One of the most well-kept and stunning buildings in the very center of Stavanger is Hotel Victoria.
The beautiful red building is located in what my opinion, is the best location in all of Stavanger. It's in the very center, close to a big parking house (with electric chargers). It's located at the very beginning of the shopping streets, next to the water and a great variety of great restaurants.
This 4**** opened up its doors for the first time in 1900 but was recently renovated. Luckily they've kept the old historical charm. At Hotel Victoria you can enjoy a glass of champagne under the same chandelier as King Haakon VII and Queen Maud did during the signing ceremony in 1906.
The Bolder
Imagine waking up above the clouds and looking down at one of the most stunning fjords in all of Norway, and the last thing you see before closing your eyes is the sparkling Milkyway above your bed.
This is what it's like to wake up at one of the Star and Sky Lodges by The Bolder.
Located 10min drives from the nearest city on a mountain top you find five unique cabins.

You've might have heard of the iconic Preikestolen where thousands of tourists every year stand in line for hours to capture a picture of the view.. well at the Sky and Star Lodges you have an unbelievable view all for yourself.
There is a private road up to the lodges, so you are able to park right outside, but you will not be bothered by people from the outside since there is a roadblock with a code.

Trekronå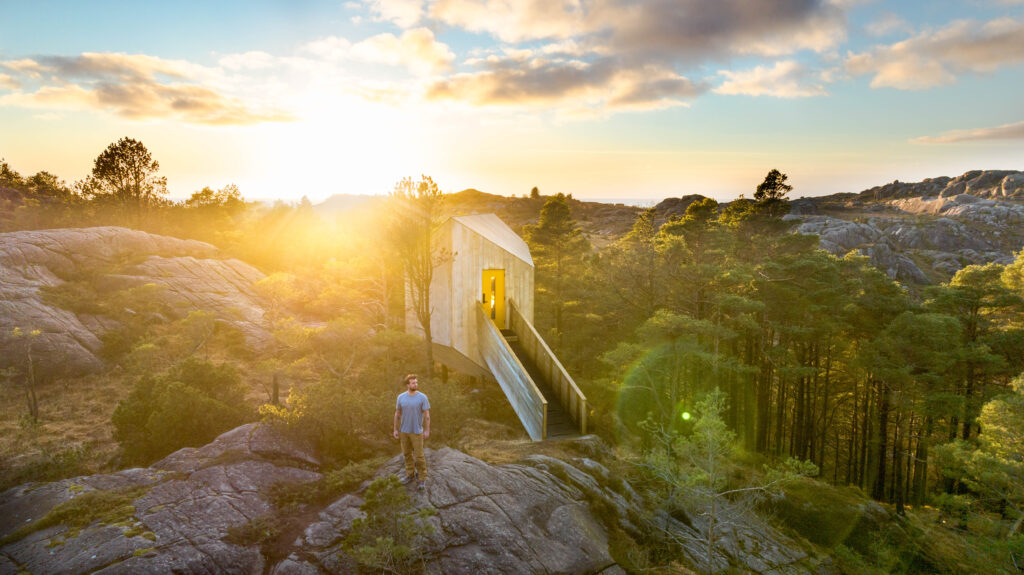 I have traveled the world for many years now. And not once I've had the urge to pack away all electronic equipment and start reading a book.. this was the first time.
I've you've followed TheTravelBook you would know that I am a huge sucker for nature and unique accommodations. I had my first treetop cabin stay about 4 years ago at Bergaliv and since then, I've been extremely curious about this kind of accommodation.
There are two cabins located in the wilderness. They are called the 'yellow' and the 'green' cabins. They are 1:1 the same cabins, but so guests can find their booked cabin the doors and part of the interior are in the colors yellow and green.
Even though the cabins are located in the middle of the forest, Henrik and Lene have managed to get electricity and water into the cabins. This means that you can easily make food in the kitchen, take a hot shower or turn on the light to read your book at night.
The cabins are equipt with two double beds as a bunk bed and you can even pull out a 5th sleeping spot. However, I would say these cabins are best suited for solo travelers, couples, or a family that is used to sleeping tight.
The main purpose of these cabins is to be close to nature, and you most definitely are. The cabins have beautiful panoramic windows along with a window in the roof so you can easily spot the stars from your bed.
Sirdal Cabin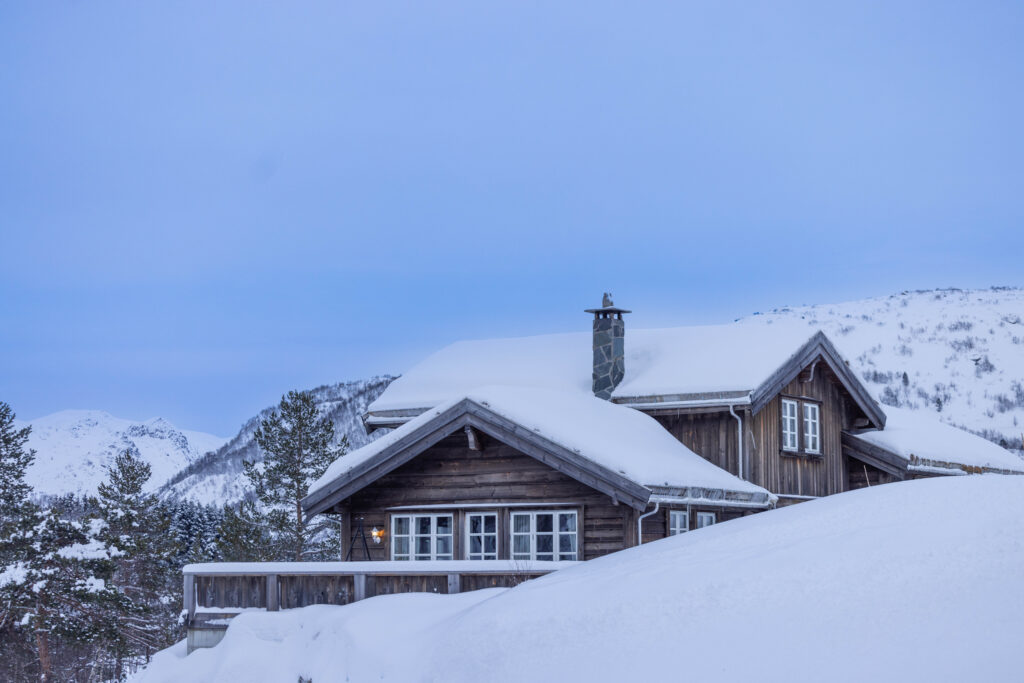 Sirdal is a small municipality in a valley about 1 1/2 hours drive from Stavanger city center. It's the nearest ski resort to Stavanger, and there are 3 different lift systems to be used for downhill skiing in this area.
If you aren't much of an alpine skier you can go cross-country on more than 200km of prepped tracks.
There are a lot of beautiful privately owned cabins in all sizes and shapes in Sirdal that can be rented through the kind host Kamil from Sirdal Hytteformidling.
Sirdal is not just a great valley throughout the winter, but a perfect all-year-long destination. During low season you're able to explore the same unspoiled nature on foot, bike, or even by dog sledding.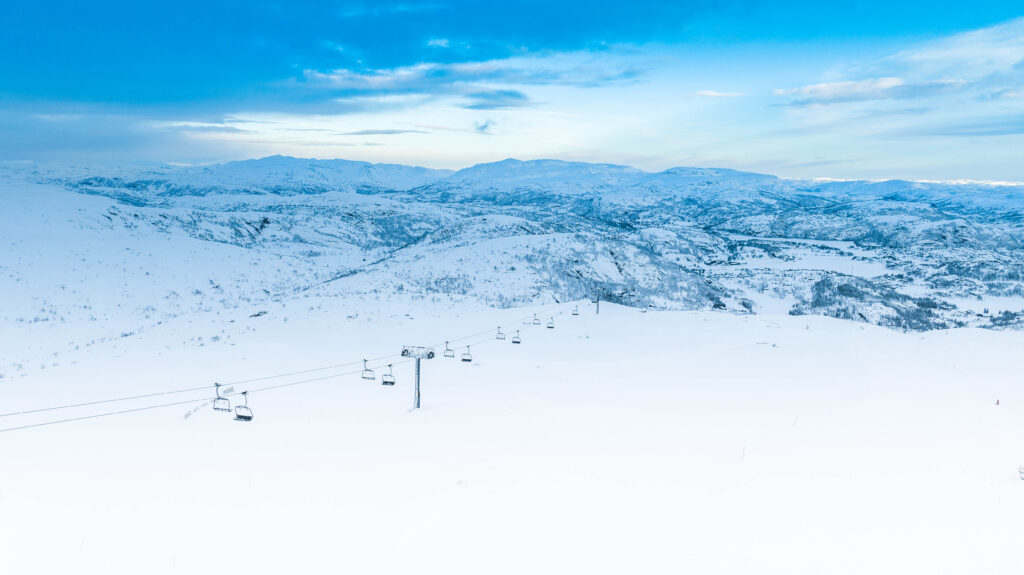 Skiing is defintley is one of the most popular winter sports activities in Sirdal. The ski centers are reachable by car and well connected with just a few meter's walk from the car park to the first ski lift.
At Sirdal Skicenter they have 21 slopes with 8 different lifts. The view from the top is incredible and the slopes are very well-kept and well taken care of.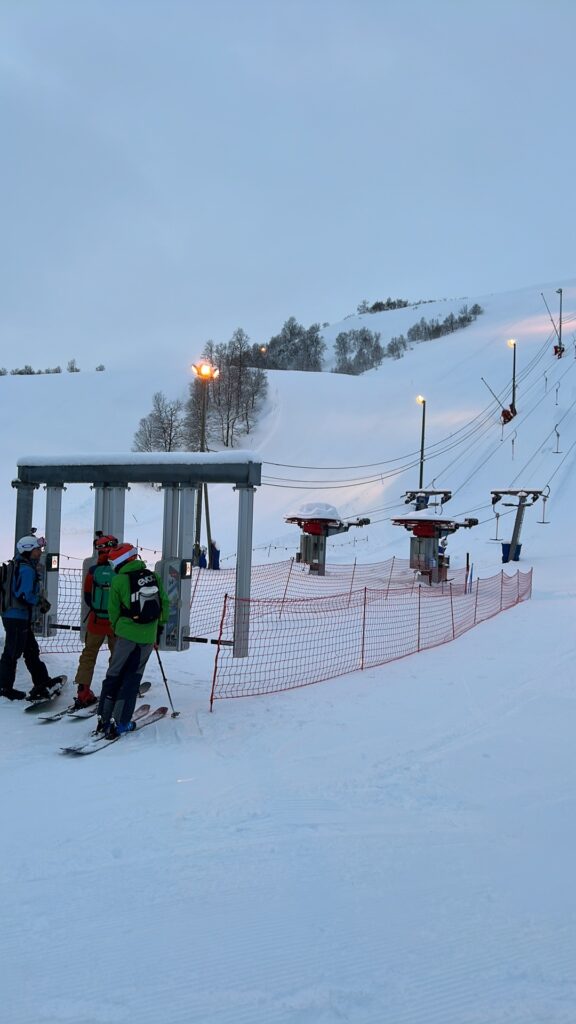 One of the most remarkable things about Sirdal is night skiing. 3 days a week the slopes reopen at 6 pm and the newly prepped slopes become a playground for locals of all ages. It's a wonderful way to spend some of the long and dark evenings during the winter season.

Grand Hotel Egersund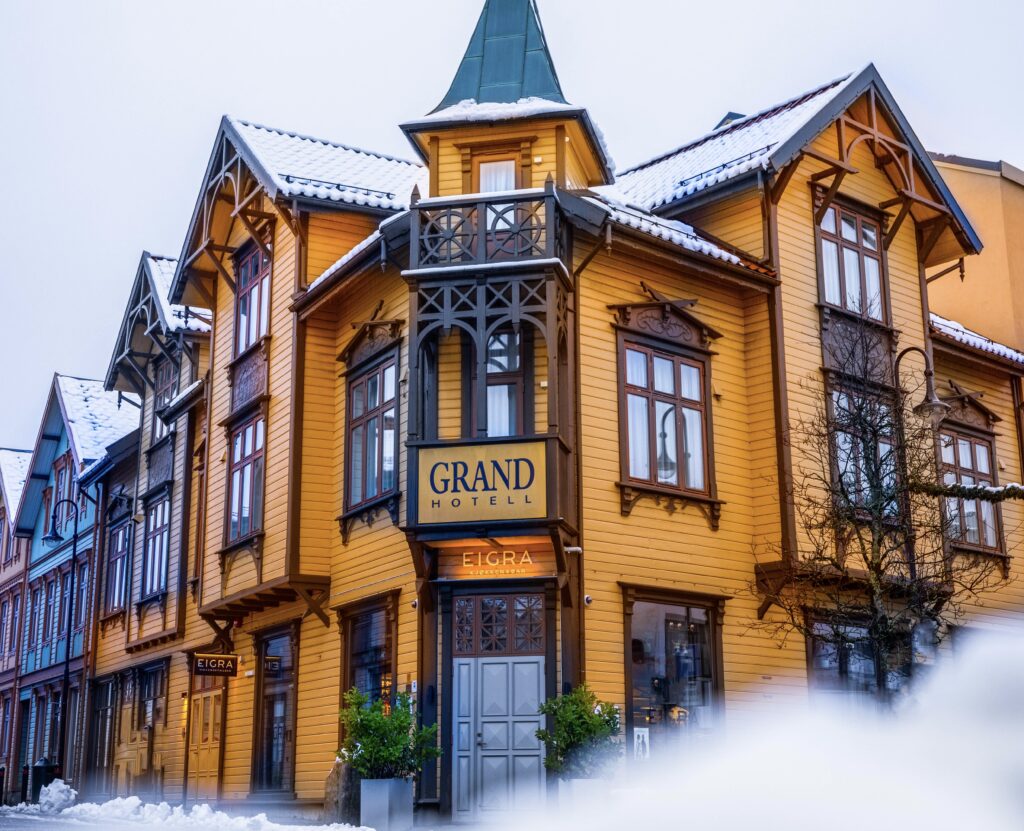 Grand Hotell is located in Egersund, which is one of the eastern parts of the region Stavanger, a little more than 1-hour drive away from Stavanger city center. Grand Hotell at Egersund is part of 'De Historiske' a networking group for some of the oldest and best-kept hotels in all of Norway.
The hotel's 10 buildings are all part of the heritage-listed wooden structure in the center.
The hotel's buildings are all linked together on the inside, so you don't have to go outside to find your room.
So why drive 1 hour away from Stavanger city you might ask? Simply because the region of Stavanger has so much more to offer, than just the city center of Stavanger. Egersund is located very close to one of the 19 most beautiful routes in all of Norway called Jærven, which will lead you to Stavanger City.
Sabi Enso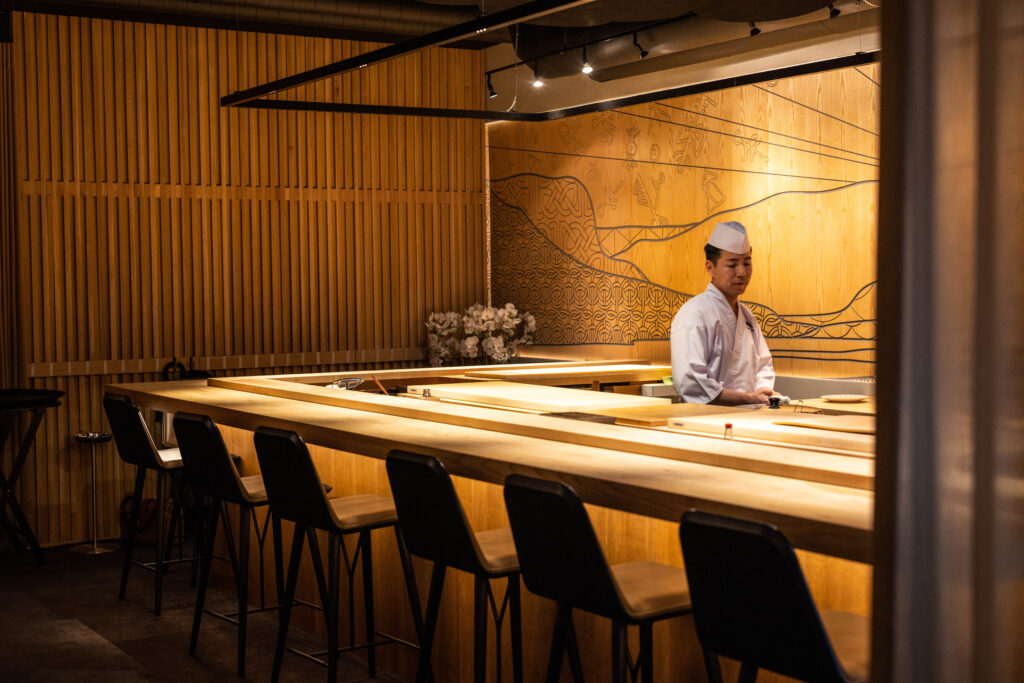 Stavanger is located on the west coast of Norway towards the North Sea, which gives access to a great variety of fresh fish and seafood. There are several options at Sabi Enso, and they have two different restaurants in Stavanger. One is the 'Omakase' (chef's choice) traditional Japanese menu with Michelin Chef, Roger Asakil Joya.

This 18-course dinner was an unforgettable experience and might be one of the greatest dinners I've ever had! It was also a dinner where the brilliant sou chef Ideree, informed me that the bluefin tuna I was eating, was a Norwegian bluefin tuna!
If you would like to try out an upgraded version of sushi and great Japanese food, but without going for the more expensive Michelin experience, you can try their Separé Omakase concept or ala carte at Sabi Enso.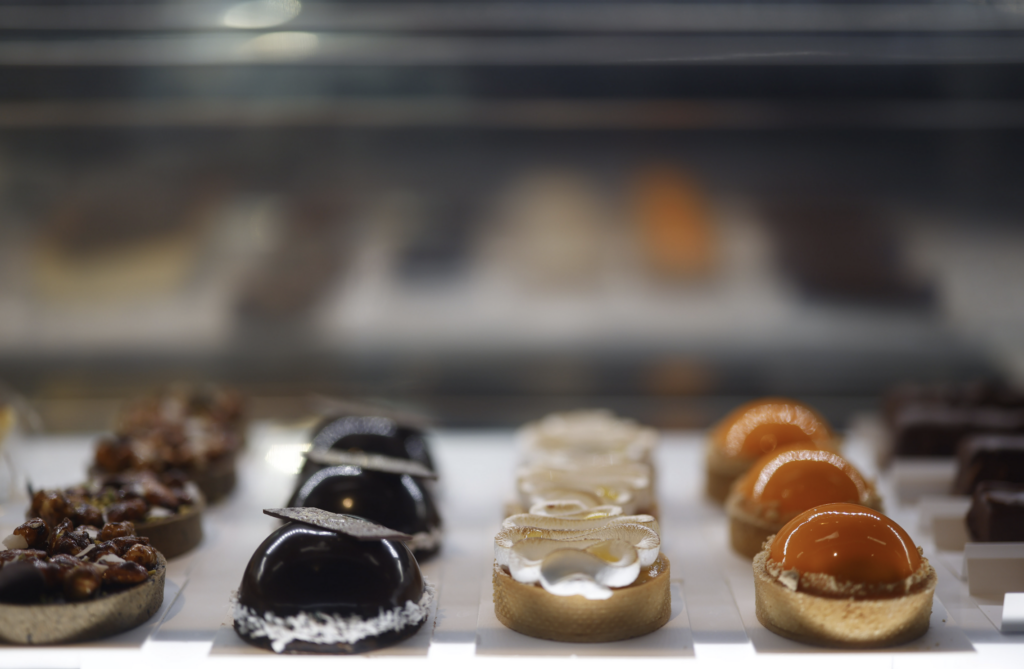 Sirkus Renaa
Sirkus Renaa is a concept that can't be described in one word. It's a confectionery, bakery, ice cream, chocolate, pizzeria, café, restaurant, and bar – all in one.
That might make you think of some of these "fusion" restaurants that offer Mexican, pizza, burgers, and döner.. however, that's definitely not the case with Sirkus Renaa!
The founder of this incredible place is also the owner of Renaa the 2** Michelin restaurant in Stavanger, and Torill and Sven-Erik Renaa aren't doing anything without putting their heart and soul into it.


This makes Sirkus Renaa the perfect place to go with anyone and anytime since you can choose from the huge variety of different food and drinks, but without compromising on the quality!

There are several Sirkus Renaa located in Stavanger city, but the original one that I visited is the one at Lagårdsveien 61.
Bellies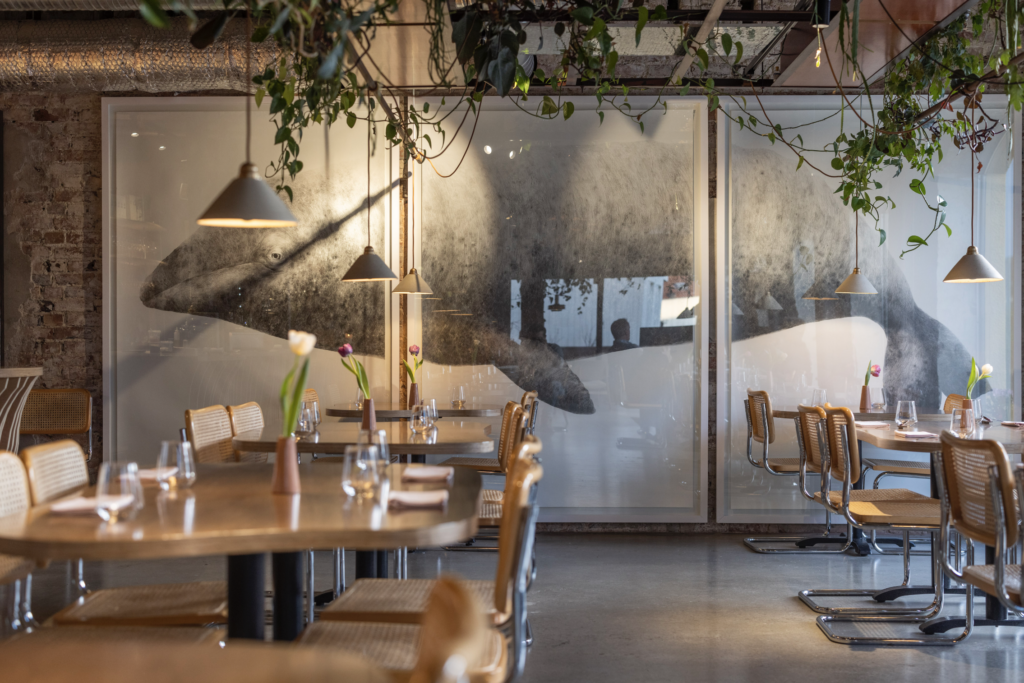 It's more than 4 years ago since I stopped eating meat and I've had difficulties finding gourmet restaurants with plant-based menus.
Lots of fine dining have vegan or vegetarian options – but it can't be compared to the incredible 10-course champagne lunch I had at Bellies.
This restaurant is located about 15 min walk outside of the city center, in what seems to be a hip and upcoming industrial area. The old factory buildings are decorated with graffiti and the streets seemed empty. The mountains across the fjords are sometimes visible through the alleys.
Out of nowhere this shining and newly painted yellow building you find Bellies.


You can try out their 10-course champagne lunch or dinner. Some of the courses are overlapping but the one coming thing is that all courses are plant-based, produced by seasonal products and groceries and the restaurant tries to use as many locally produced products as possible.
Bellies don't brag about being plant-based, because part of their vision is to be accessible to everyone.
Slottet Sirdal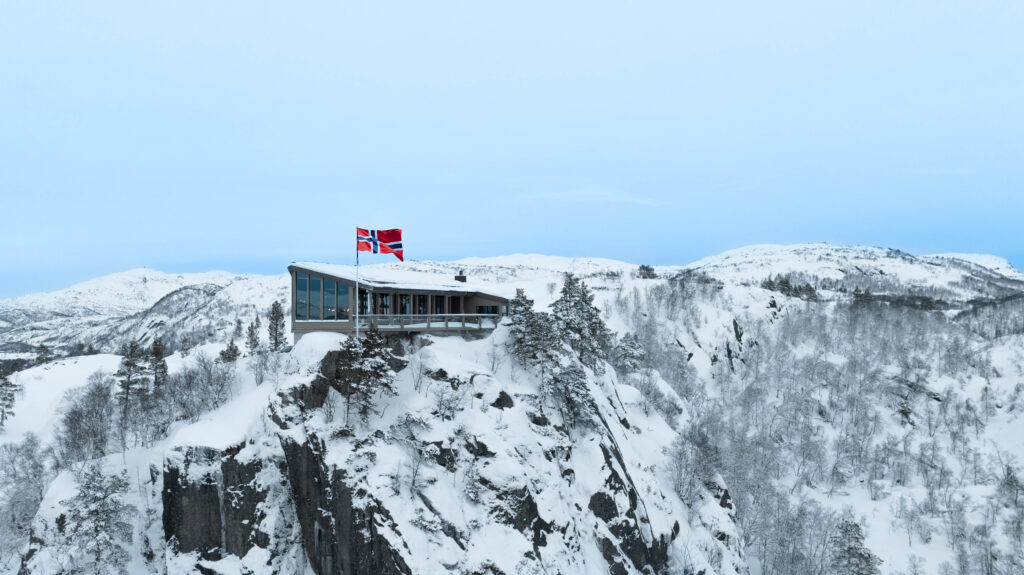 'Slottet' is the Norwegian word for 'Castle', which is very well suited to this incredible restaurant.
Located on the top of a hill with an excellent view of Sirdal you'll find this newly built restaurant, that opened during the pandemic. It's owned by a family who've lived in Sirdal for generations. They don't have any experience with cooking or running a restaurant, but with their knowledge of farming, they know how to get the best out of groceries and crops. Their philosophy is to run a restaurant that can use locally produced groceries and activate as many people from the nearby community as possible.
This restaurant is a gourmet restaurant and during the night time, you are able to have their 6 or 7 courses tasting menu, along with the beautiful view of the mountains and valley.
Helmer Tea and Coffee house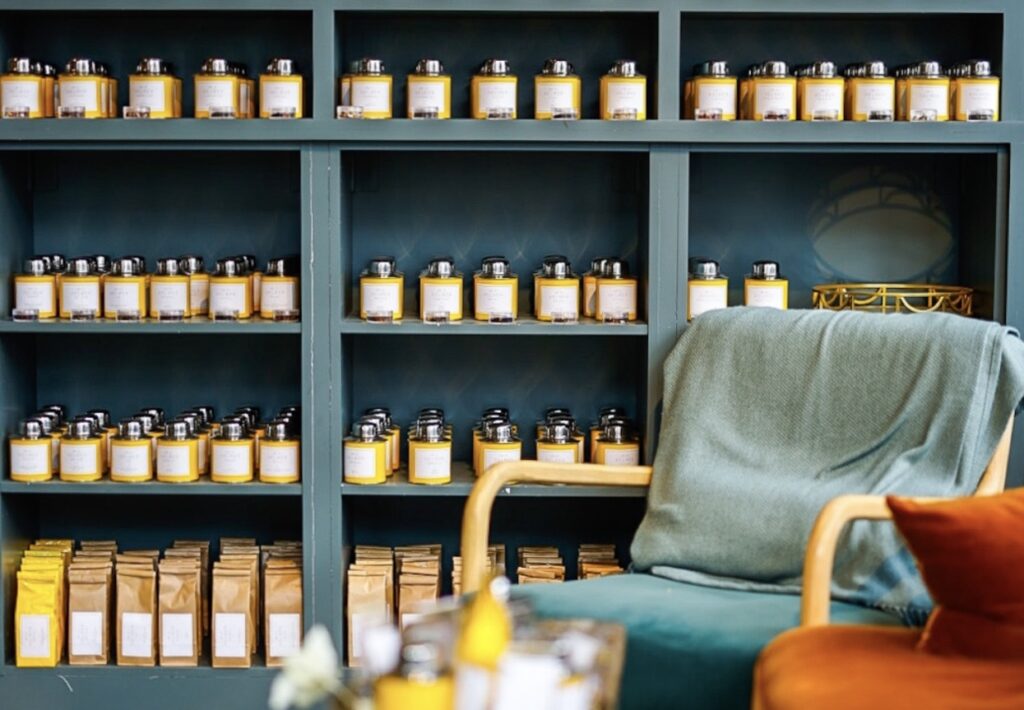 We all know the feeling of waking up in a hotel room and wanting to start out the day with a cup of coffee or tea. Most often I would go for a cup of tea, but the hotels often invest in brands like Twinings or Lipton, and therefore I most often skip the morning tea. My experience at Eilert Smith was different!
I noticed the beautiful yellow tea box when I checked into my room and right after check-in, I had to sit down and enjoy a cup of this lovely tea. and it was good. To my great surprise, it belonged to a local tea house in Stavanger city, Helmer Tea & Coffee.
The next morning I went straight down to the Tea House and spend at least 1 hour in this beautiful store. It visited in autumn for the first time, but I ended up buying all my x-mas presents for the lovely women in my family from this place – and everybody very much liked their present.
They have a great variety of teas you can smell and they also brew what they call the best coffee in town.
Helmer Tea and Coffe house are as much of a cafe as it's a shop.
Ostehuset Øst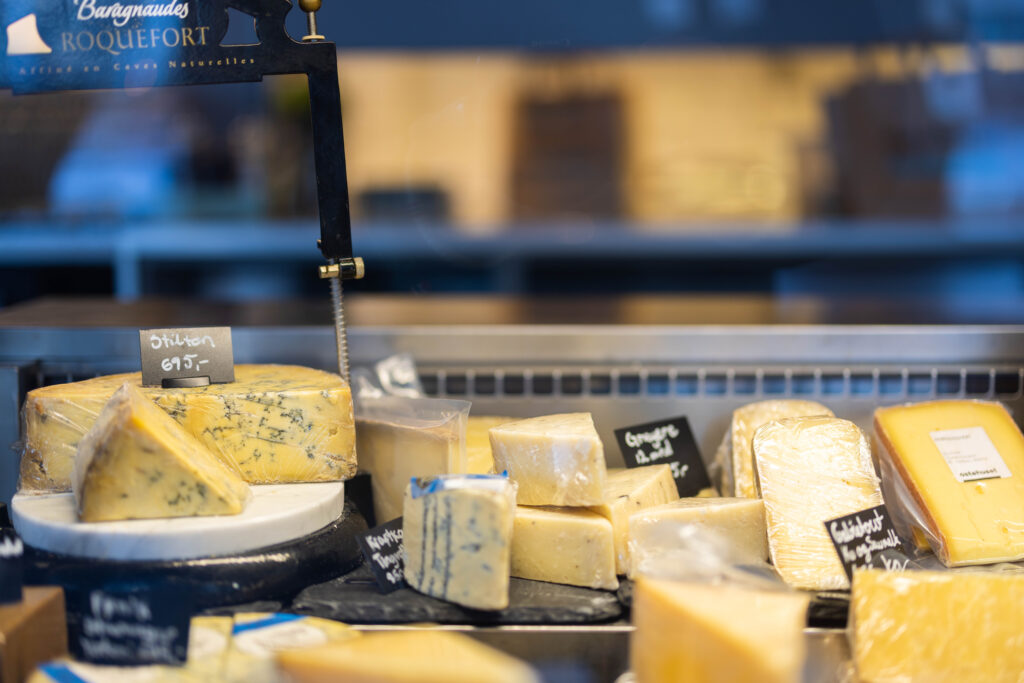 Ostehuset can be translated directly to 'The Cheese House'. As you might have discovered by now I'm a huge foodie and I love cheese! Therefore I was also a bit disappointed when I arrived at 'Ostehuset Øst' and discovered that only a handful of different cheese was displayed at the counter along with a ton of other products.
They have a great variety of different great quality products and cheese is still one of the main ingredients in their repertoire this place has existed since 1999 and all the locals clearly come here to hang out and enjoy some quality time with their loved ones.
As mentioned they do have some cheese and I got served a plate of a few lovely locally-produced kinds of cheese that tasted fantastic! They were also stored just down the street for their maturation process. So maybe I should simply just have done my research a little bit better before visiting 'Ostehuset Øst'.. because it was actually a really nice place with a great vibe.
Odd Standard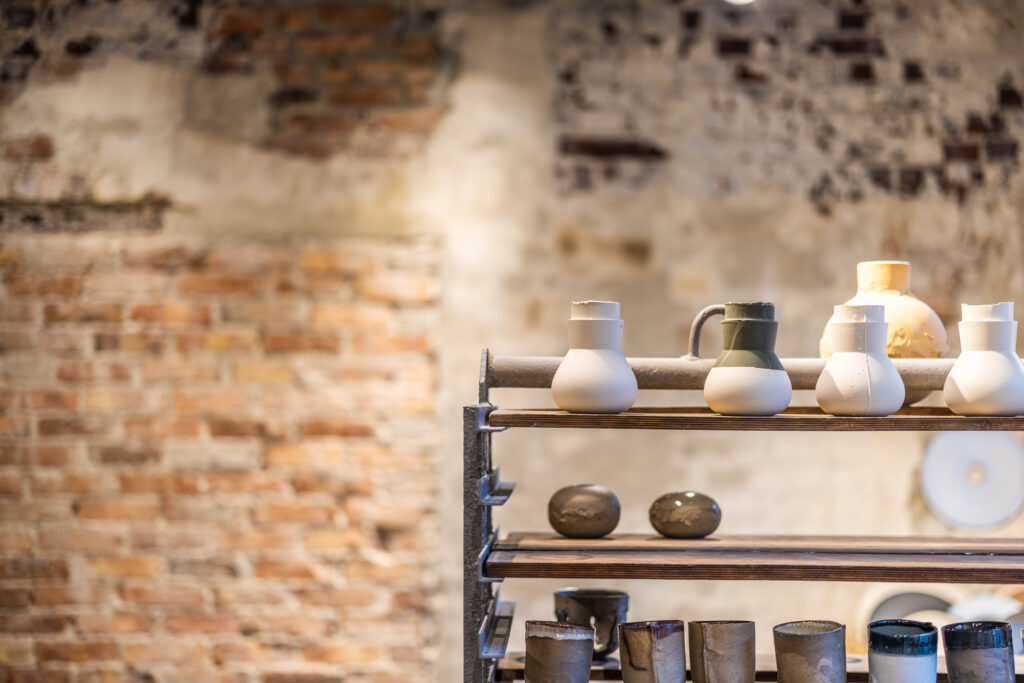 Have you ever been to a restaurant where you've noticed the tableware? this has happened to me a few times and I've always wondered how I could get my fingers in some of this unique tableware. When I had my memorable lunch at Bellies, I had to ask where they got their beautiful tableware from – and to my great surprise, Odd Standard who had produced their tableware had their micro-factory almost next door to their restaurant.
The artist duo and lovely ladies who run Odd Standard have both worked in the porcelain industry for many years before they decided to start their micro-factory together. Their main customers are restaurants but every Thursday, they open their doors to public visitors who can also stop by and buy some of their incredible tableware.
The Fevang Brothers Barbershop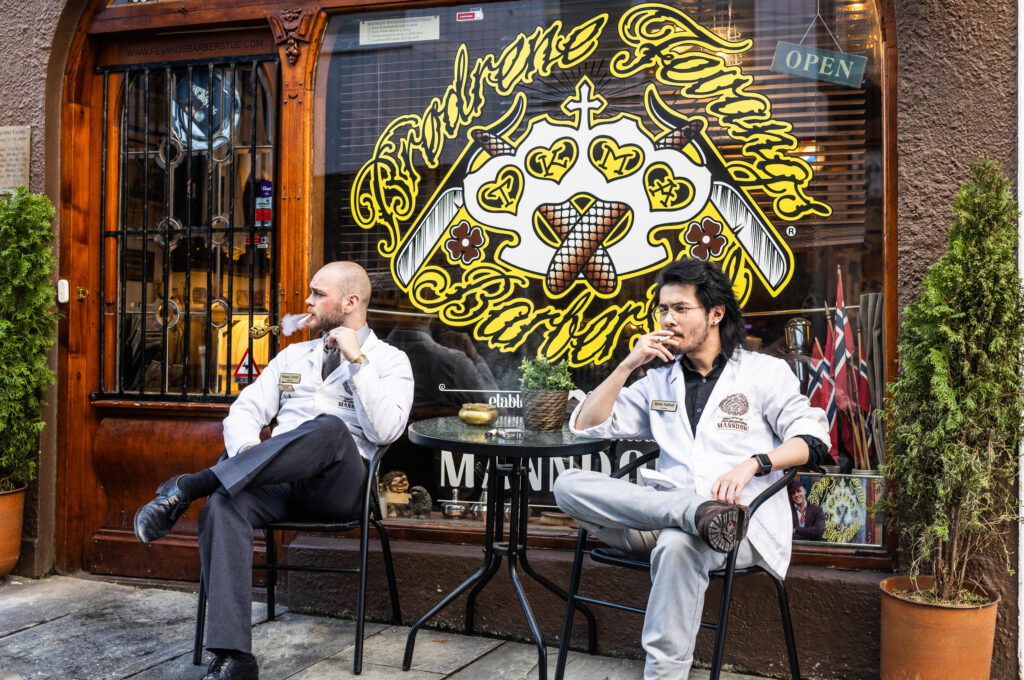 It's my 3rd time in Stavanger in just 6 months, and this time I learned the lesson from my previous trips. I booked in advance! Because this is necessary if you want to try out one of the best barbershops in the north. I can honestly say that I've never experienced any treatment and hospitality as good as this one at any barbershop around the world.

3 brothers are running this 50's inspired barbershop in memory of their beloved bigger brother, Thomas, who very, unfortunately, died way too young.
Don't judge the book on its cover, and even though these guys have tattoos all over and golden teeth, they are warm and friendly and they will give you a shave like never before.
Posters of Elvis Presley are hanging on the wall together with black and white personal pictures of the 4 brothers and the music playing on the stereo is matching the time period of the 50s.

I already booked my next shave at The Fevang Brothers Barbershop and I can't wait..
Swords in Rock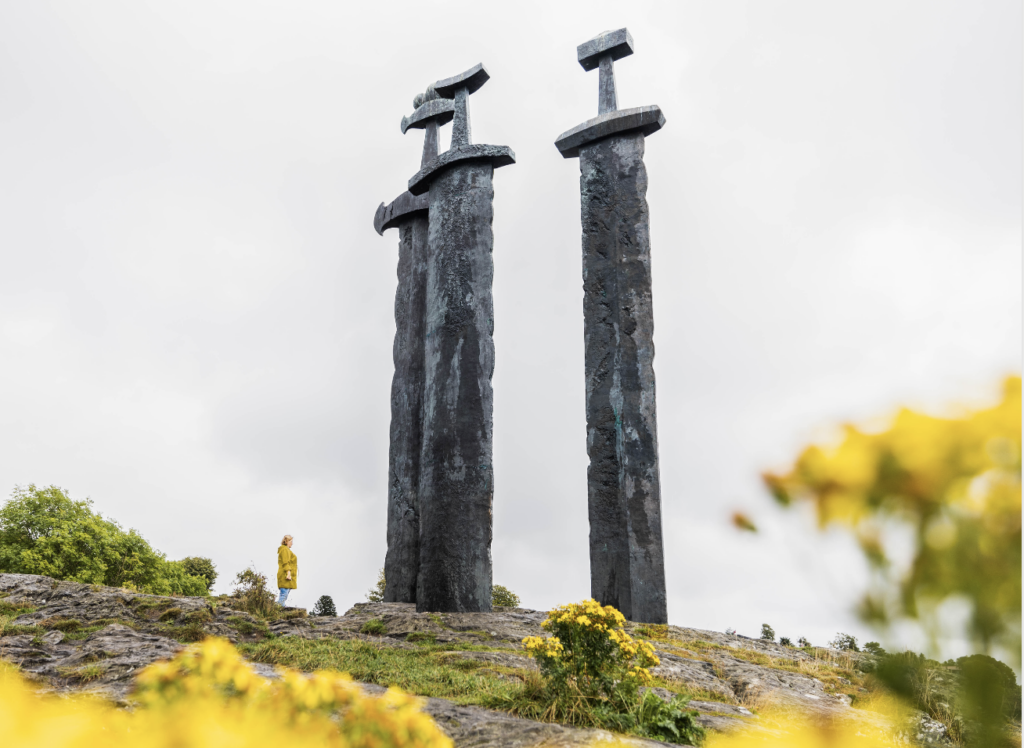 Located about 15 minutes drive outside of Stavanger city center you'll find this fantastic monument!
There are 3 enormous bronze swords, each sword is 10 meters tall and they are planted in the rock of a small hill in a beautiful fjord.
The monument is the symbol of a historic battle that took place in 872 when King Harald gathered all of Norway under one crown. King Harald is represented as the biggest sword and the two smaller swords are the two fallen kings that he defeated.
This monument also represents peace in Norway and the swords may never be removed.

Ice hockey Oilers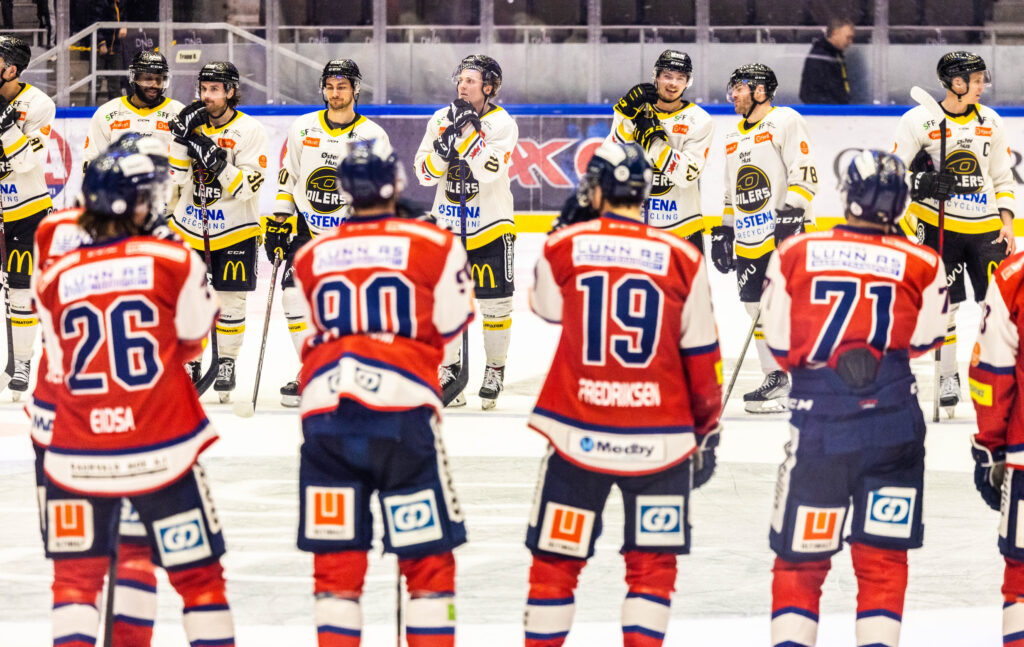 When I travel I find it extremely important to blend in with the locals as possible. Eat where they eat. Go the same walks in nature as they do and basically try to do what they do. That's for me the best way to get to know the countries I visit.
One of my local followers from Stavanger wrote me that Stavanger Oilers were playing an ice hockey match against Lillehammer. I've only seen a few ice hockey matches in my life and to be honest I went to this game without knowing anyone or anything about the game. But it was one of the most cheerful evenings I've had in Stavanger. Around 4.000 people gathered together in the cold arena on a regular Thursday evening to support their local team.
Within 1 hour I felt like one of the locals "singing" and cheering for the Oilers, a fun experience if you don't have ice hockey as a big sport in your own country.
Huskyfarm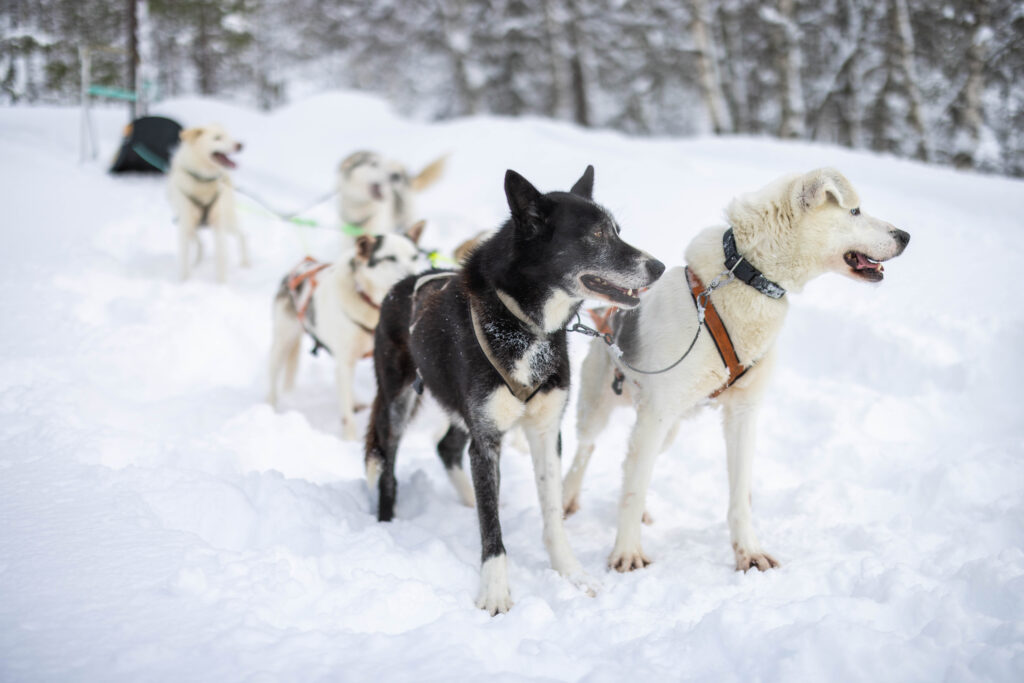 Located in the valley about 20 min drive from Sirdal ski center you'll find the family-driven Sirdal Huskyfarm. It's currently being run by two generations who have nothing but love for nature and the animals on their farm. Odd, the owner, used to do hardcore travel exhibitions in the wilderness, but these days the trips are very well organized and safe.
The moment you enter Sirdal Huskyfarm, you enter a complete universe like nowhere else. You can hear the passionate and enthusiastic sledding dog ready for action.
The son-in-law to the owner, Flo, is a 30 years old enthusiastic guy, who originates from Germany but has learned Norwegian. He also respects that nature as a Norwegian and it's easy to see how much he enjoys taking on the daily challenges on the farm. We had a 4-5 hours incredible journey into the wilderness of Sirdal and simply just got "lost" in the woods. Being alone with the dogs and surrounded by this incredible nature – was something that kept me smiling for many days. It's a long time ago since I've had such much fun!
Jæren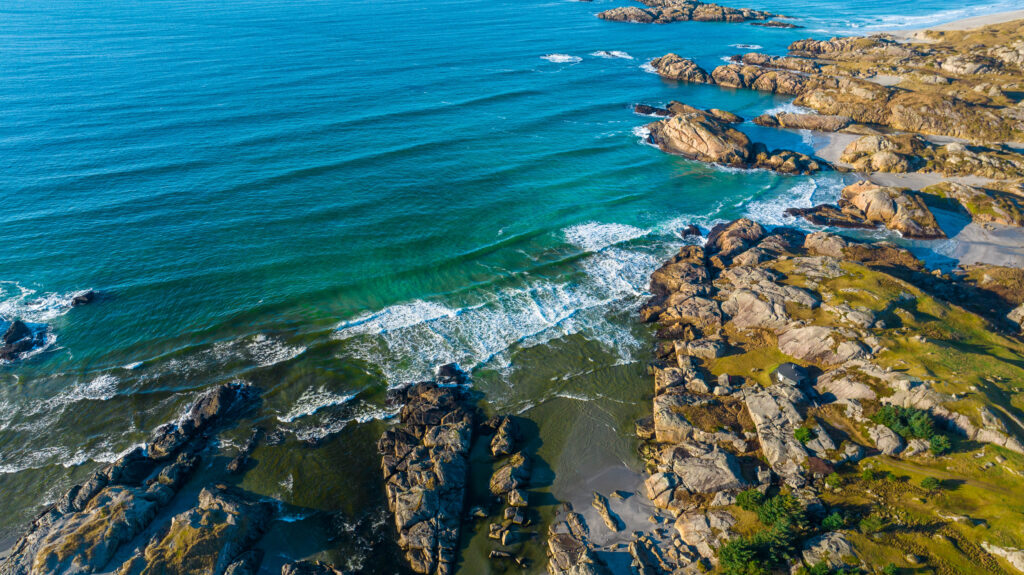 Jæren is a 65km long area located just south of Stavanger city.
In Norway, you have 19 extremely beautiful roads called 'Norwegian Scenic Routes', one of the 'Jærvegen' which is located a Jæren. It's an area with a fast-changing landscape. You are driving through small towns, next to small lakes, around cliffs and small mountains, and then suddenly that landscape becomes flat but with beautiful beaches. The picture above is taken from the shore at Jæren in the small city 'Ogna', which is only 5 minutes from the treetop cabin Trekronå.
Part of the landscape around the coast reminded me more of Scotland than of Norway. A truly beautiful area.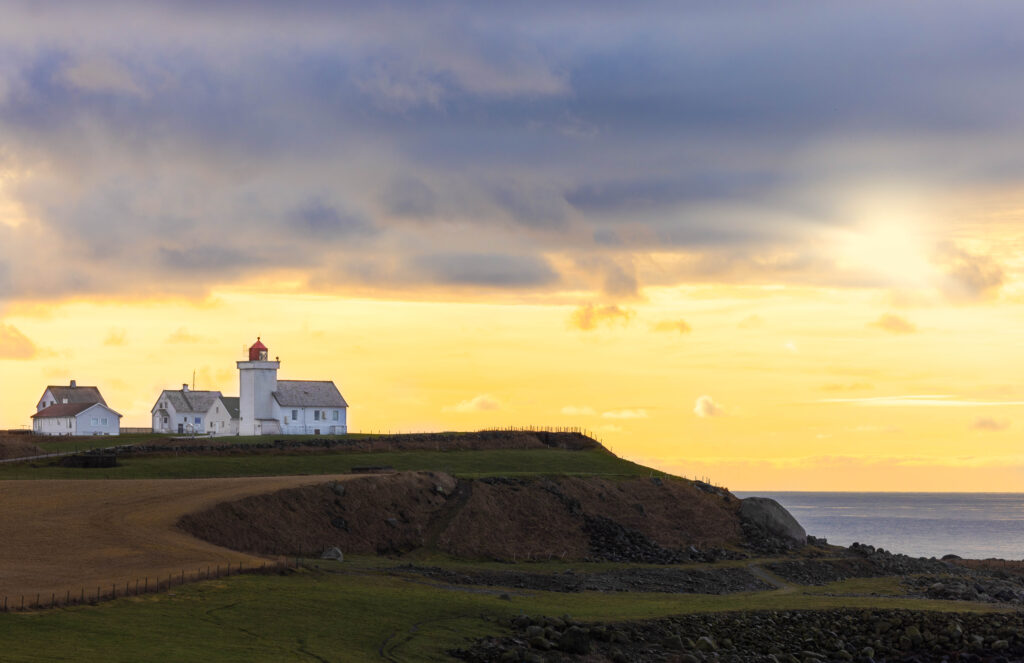 Jæren is also an area with a lot of history which can be read about at Hå Gamle Prestegård which is a museum but also a lovely cafe, art gallery, and showroom for local artists. You can also stay a night at this beautiful lighthouse Obrestad Fyr, right next to Hå Gamle Prestegård.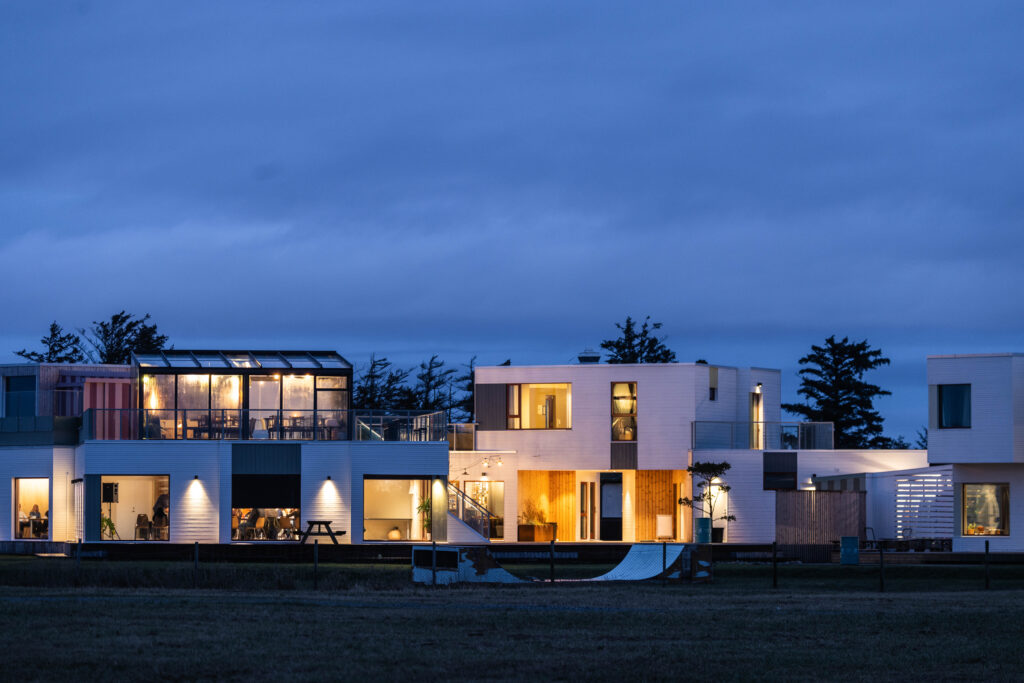 Jæren is also one of the Norwegian paradises for surfers. You might think the big waves and temperatures outside of the coast of Norway, wouldn't be the ideal surf environment – but then you have to remember that the Norwegians are Vikings! In Norway they have two sayings I truly admire:
Ut på tur, aldri sur = Never angry, go out into the nature
Det finnes ikke dårlig vær, bare dårlige klær = There is no such thing as bad weather just bad clothing.
It seems like most Norwegian people are living after those two sentences because no matter how terrible the weather is, you'll always find the Norwegian people being outdoors, and always being together with good friends, families, or other loved ones.

The same goes for surfing, even during the coldest and darkest hours of the winter, you'll find happy surfers, windsurfers, and kitesurfers around the area of Jæren.

At one of the majestic beaches at Jæren 'Borestranda', you'll find a lovely community and eco-friendly accommodation Boretunet.
Boretunet is up-cycled old barracks that originally have been used by workers around in Stavanger Region.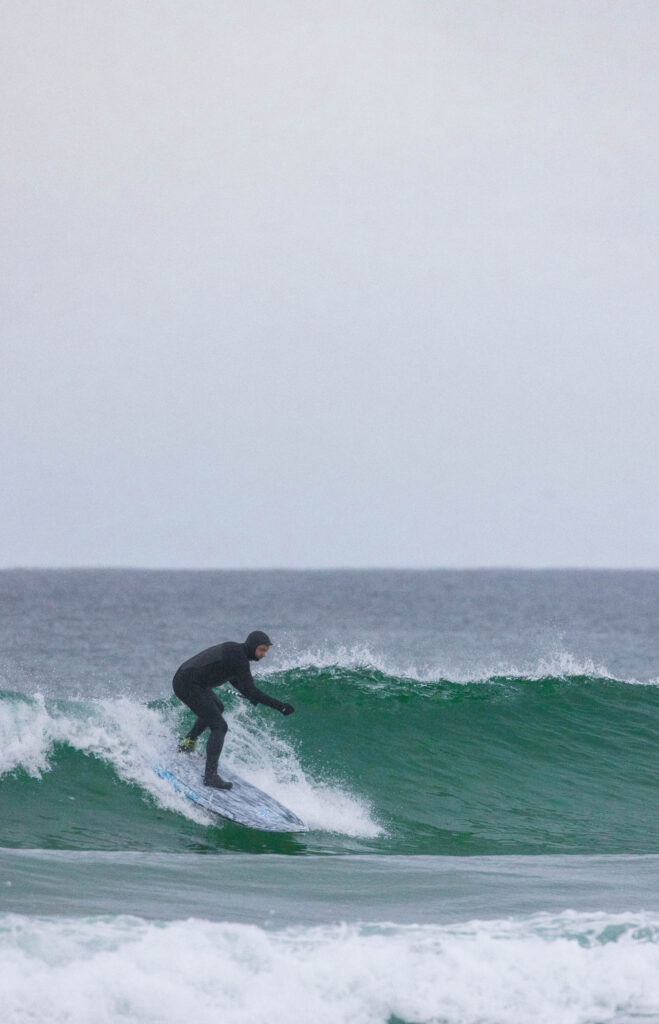 Boretunet is the perfect place if you want to try out surfing since you can rent equipment and you have direct access to the beach from there. They also offer accommodations where you can stay in either some of the barracks or in cabins located right next to Boretunet.