Invited by Tunheims Fjørå – but this blog post is my honest opinion.
Located in the northwestern part of Norway, in a small fjord about 15km from the coastline you find 3 luxurious lodges which blend perfectly into the landscape of Norway's fjord.
With parts of the living room hanging above the ocean you get as close to being in nature as possible, but while still sitting inside in beautiful interior and design furniture, while looking at the sun set over the mountains.
The 3 lodges each have their own style on the inside but the same great view and facilities. I stayed in 'Kong Ring' which is the only one of the lodges where dogs are allowed.
Kong Ring has an interior that is inspired by the Viking king that used to live in Tunheim.
Lodges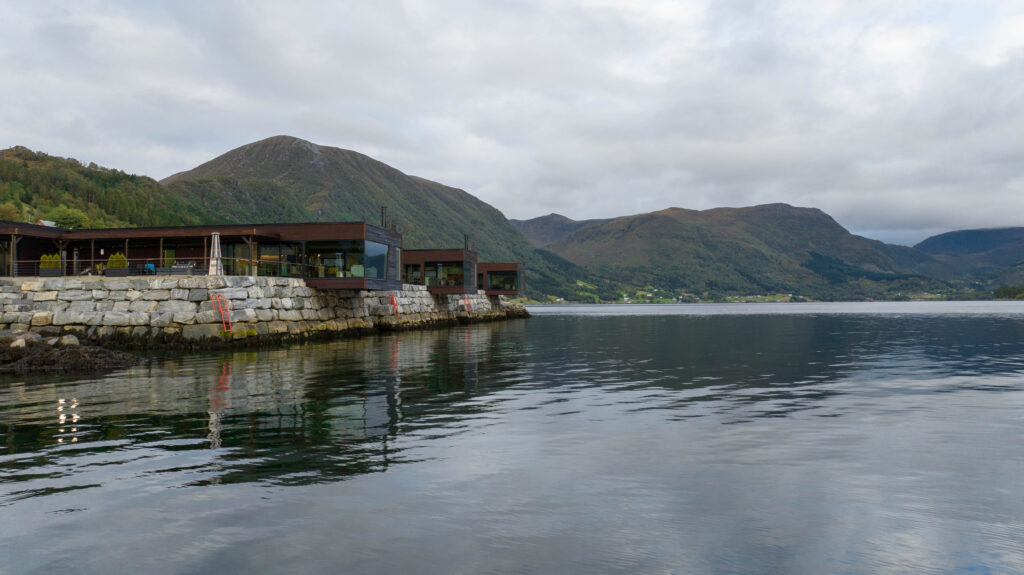 The lodges are well-suited for a group of friends, couples, or families but this is a high-end accommodation and is meant for enjoying nature and great company. The owners do keep the right to reject requests since they want to make sure their guests are the perfect match for these unique accommodations.
It might look like the lodges are located fairly close to a road and the houses behind, but as soon as you enter the door at the lodges all noise and city life disappears, and you can enjoy the nature undisturbed.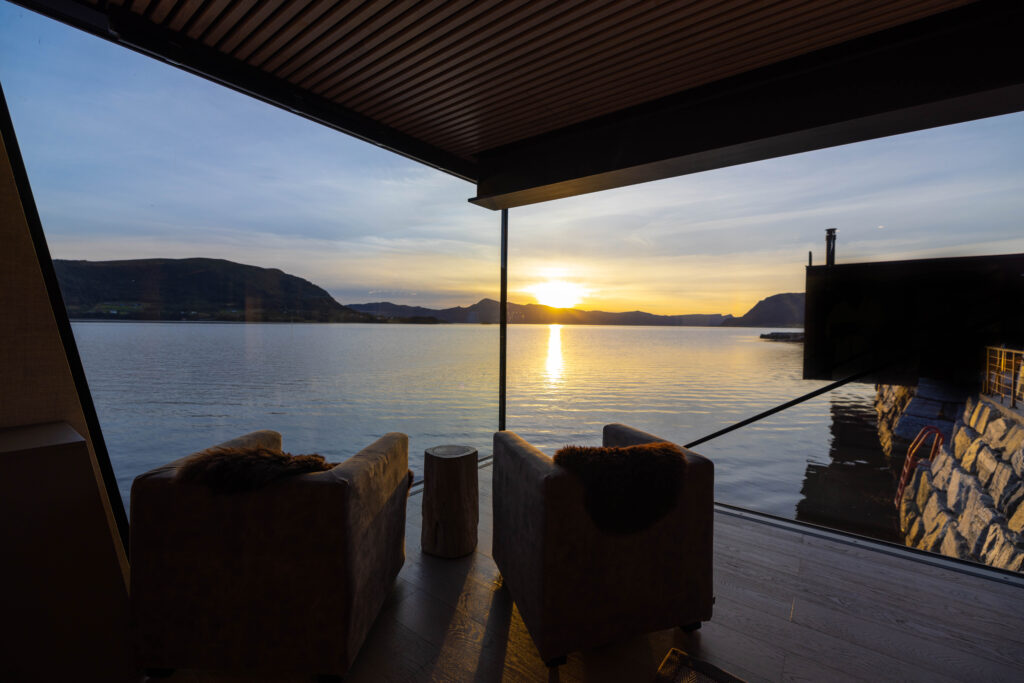 Rooms
Personally, I'm a huge fan of the Viking theme at Tunheims Fjørå and I think that it fits perfectly with the surroundings of nature. I was visiting during the autumn months which also made it a bit warmer and cozy with this interior – but since there are 3 different lodges and each has its own theme, I recommend you're having a look at their website and decide before you book.
There are 3 double bedrooms at all of the lodges at Tunheims Fjørå, and each has its own bathroom.
There is one master bedroom with a bigger bathroom which is the room you see in the image above – but the two other bedrooms are spacious and lovely as well and the beds in those rooms can be separated, so you can stay in two single beds.
Facilities
I've rarely been in doubt about which of the facilities I should enjoy while staying at lodges or cabins, but at Tunheims Fjørå there are simply just so many fantastic facilities that it can be difficult to choose.
As you can see in the pictures below, everything here is so well organized but at the same time, it's so inviting for being used.

The lodges are located right on the Fjord which makes it optimal for water activities, which is one of the highlights at Tunheims Fjørå.
Waterski, kayaks, SUP paddle board, or taking out the boat for a bit of sightseeing in the beautiful fjord, the choice is up to you.
If you are more to relaxing and wellness you can enjoy the fjord and breathtaking nature from the outdoor jacuzzi or warm yourself up in the private sauna after a dip in the ocean.

The possibilities are endless at Tunheims Fjørå which is why at least a couple of days are reccomended at this fantastic lodge.

Hiking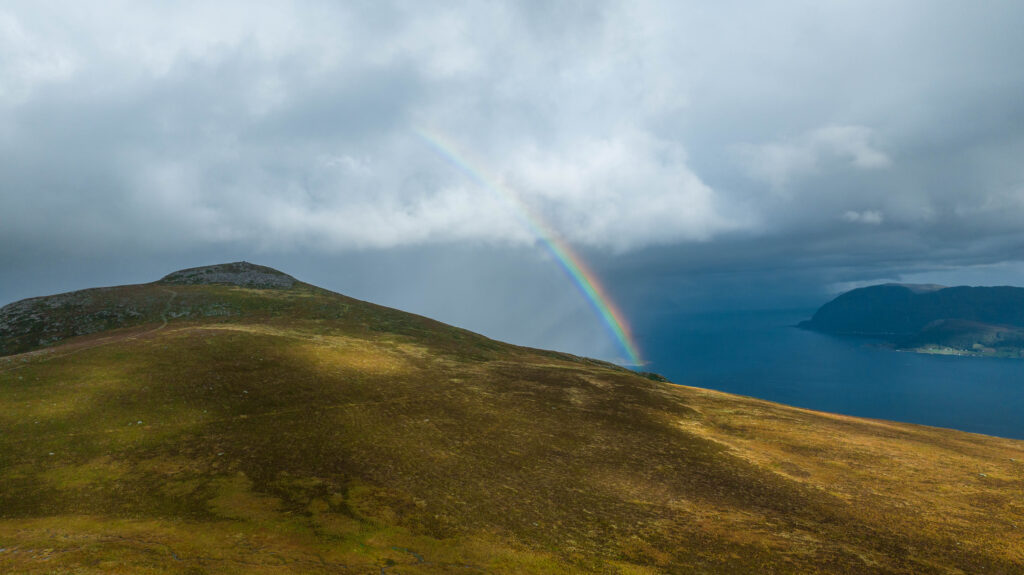 Tunheims Fjørå is located in Vanylven municipality which is home to noless than 112 different hikes.
The pictures you will find below is from a hike to Nystøylhornet which is a 20 minutes drive followed by an easy 1 hour hike to the top and one hour back. The view fom the top is magnificent and defintley worth the walk. Be aware to have proper footwear since it can be wet and moist along the hike.
Some places you need to drive by local roads which mean you have to pay a small fee of for example 30,- NOK which can only be done with cash or via VIPPS which is only accesable with a norwegian phone.