(This blog post contains affiliate links)
We started our Vietnam journey in Hanoi and worked our way south through Hue, Danang and Hoi An before heading south to Phu Quoc and ended up in Ho Chi Minh City.
All parts of Vietnam seems different, and Phu Quoc was definitely different!
This beautiful island is besides being covered in nature park filled with beautiful beaches!
Sao Beach
If you are looking for palms, white sand beaches and crystal clear water, Sao Beach is the perfect location! We never photoshop our pictures (read about our photo programs here) so these pictures are not manipulated! Therefore we always like to be honest. You wont be alone at this beach.
However, if you arrive late afternoon when the tourist buses has left, you can have the northern part of the beach almost to yourself!
StarFish Beach
We have recived a lot of questions on our instagram profile about where this beach is located. Therefor we have pinned it on the map below.
We drove 18km on a dirt road in the nature park to get to the beach from the city Ganh Dau. Besides driving from Ganh Dau, you can also take the highway toward Bai Thom. This way is only 5-6 km on dirt roads. The beach is covered with starfish in all sizes! The water is not the clearest close to the beach, and the beach is not the biggest. Besides that it is all worth it to see the beautiful starfish!
If you want a quick getaway to a hidden oasis, go to Restaurant The Rock by Mango Resort. This place is perfect for a romantic lunch or dinner!
The prices are reasonable and the quality of the food amazing. Besides that, you have a 180 degrees view of the ocean with excellent service.

Mango Resort
The Embassy
As you might have noticed by now, we love places with fresh smoothies, healthy bowls and vegan options. The Embassy is owned by a lovely Swedish woman. She makes sure the vibe and service from her vietnamese staff are always good and you feel welcome.
We suggest that you visit for breakfast or lunch, even though it is open until 10 pm.
Cami Restaurant
We had 3 dinners in Cami Restaurant, doing our stay in Phu Quoc!
Besides having plenty of options on the menu they have the friendliest staff!
Try out the Mango Juice or Smootie, you will not regret it!

Nemo Restaurant

If you are into seafood, Nemo Restaurant is the place to go!
In front of the restaurant, you find the selection of the day of fresh fish. You simply point at the seafood you prefer. You pay for the weight and they will BBQ it right in front of you. Compared to the quality of seafood and the price this place is worth recommending!
The restaurant has an outdoor garden with lovely white lanterns, that create a great atmosphere.

Sunset at Long Beach
Phu Quoc has a beautiful beach called Long Beach. It is located on the western part of Phu Quoc, which makes it ideal for sunsets!
The island, Phu Quoc, is booming with tourism which means lots of construction sites. Most of the hotels are not completed yet which means no people. But besides the construction sites the beaches are beautiful. The absolute best lcoation for a sunset and a swim on the island. At least for a few more month.
SunWorld – Cablecar
We have mentioned Sunworld once before in our blog post from Da Nang.
This massive company is helping tourism in Vietnam to explode. Sunworld creates enormous amusement parks and attractions. In Phu Quoc, they have built the worlds largest cable car. This cable car takes you to Hon Tomh nature park. Besides going on a daytrip you can book resorts on the island! Sunworld offers free shuttle service to the cable car.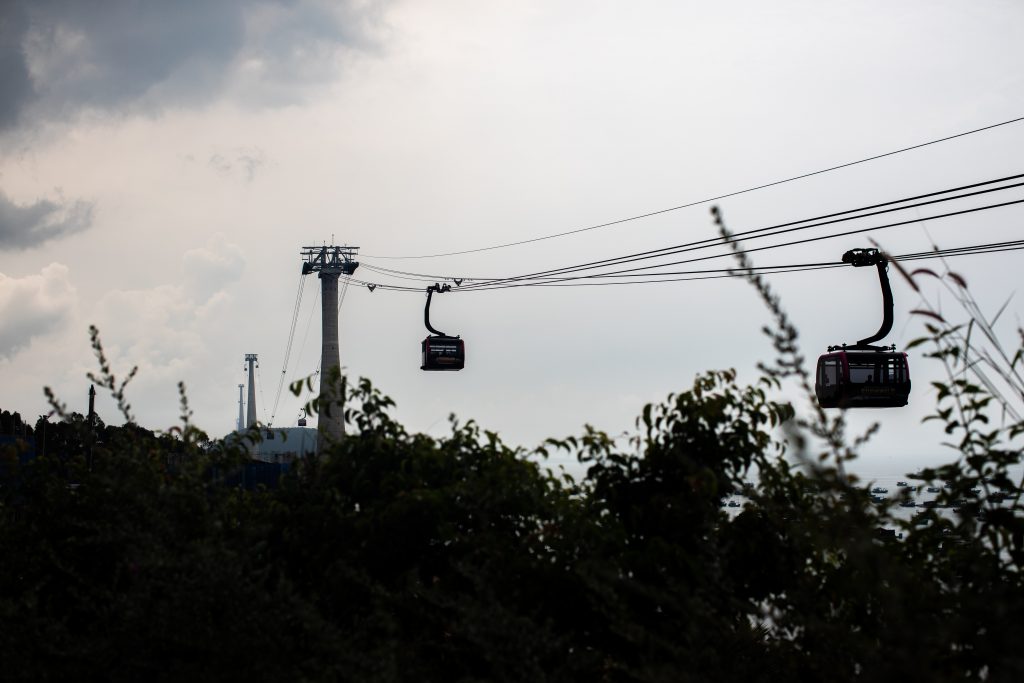 Vinpearl Safari
We both love animals more than anything in the world – but to be honest, we often discuss whether if ZOOs are a good or bad thing. You can join our discussion on our Facebook.
The Vinpearl safari seemed very legit and the animals had lots of space and seemed treated really nice without any circus tricks.
You can walk through half of the safari and take a bus through the second part to drive among the wild lions, tigers, zebras etc.
Our highlight was defintley feeating the giraffs, which was an unforgettable experience!
Duong Dong market
I think every city in Asia has a market – but the Duong Dong market was most likely one of the most authentic once we have seen.
We drove through on our MC and it was clear to see that this was the place for the locals to buy their groceries, meat and fish.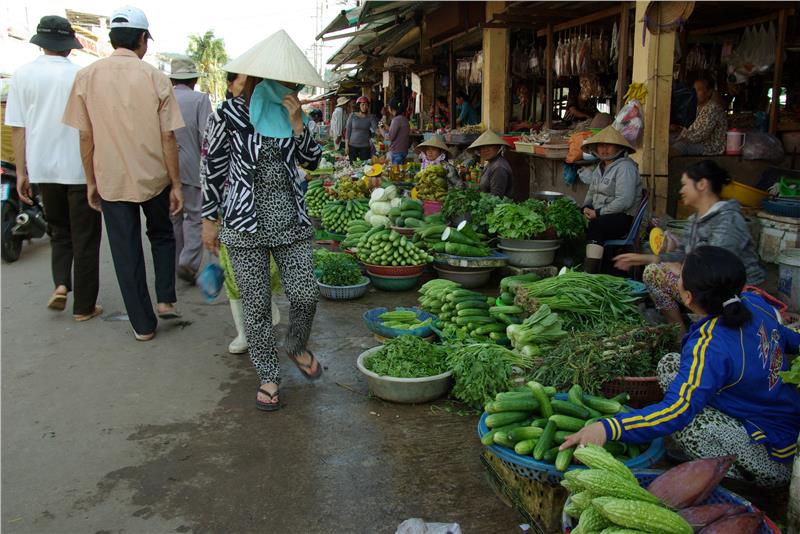 Night Market Cho Dem Phu Quoc
The Night Market is clearly made for tourist to get a little bit of insight into what Vietnamese food and lifestyle is about. If you have seen one Night Market in Vietnam you have seen them all. We prefer going to more local markets but if you haven't seen a Night Market yet, this one is quite pretty and clean and the size of it is manageable for one evening.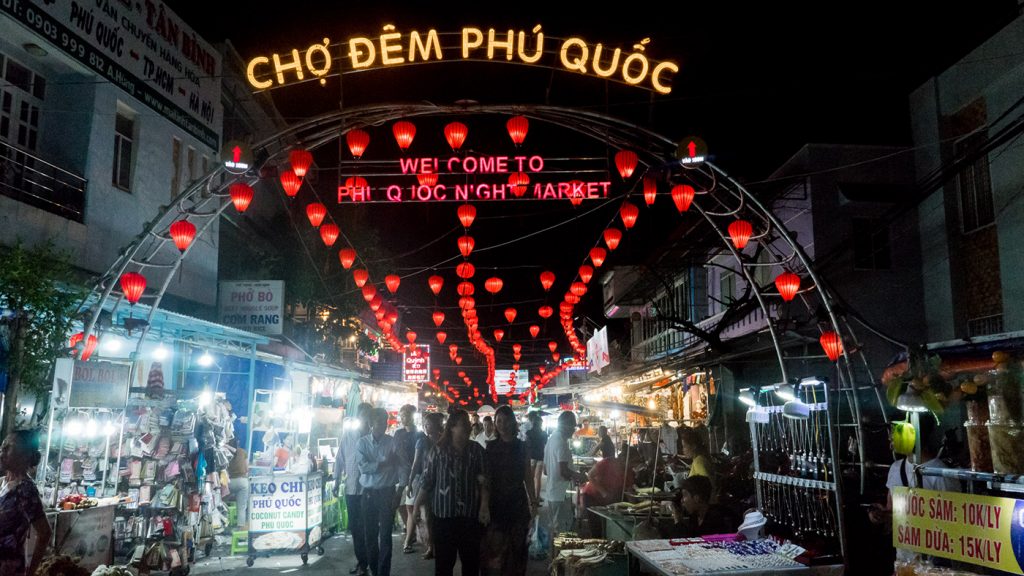 RENT A MC!
We travelled around Vietnam for 21 without renting an MC, simply because of the traffic. Check out an example from a roundabout below.
However, driving an MC in Phu Quoc was okay because of their big roads and relaxed island atmosphere. If you decide to enter Phu Quoc with your MC you will meet traffic!
They are building a new road around the east coast of the island. This makes it possible to drive around pretty much the whole island, but some places they are still building the road so you will find dirt tracks.
We paid 200.000 VND per day for renting our MC, but I am sure that you can find cheaper solutions on the streets or restaurants.
*Moterbikes in Asia, can also be what we in Europe call scooters/vespas. Basicly moterbikes with automatic gears.