— This blogpost contains affiliate links —
Look no further, these are the places to visit in Da Nang!
We stayed almost two weeks in Da Nang, simply because it was very easy to fit in with the locals and we had plenty of options for day trips, nature, beaches and a great selection of food!
Da Nang is one of the biggest cities on the east coast also called the city of bridges.
The city is divided into smaller areas, so you can simply choose what you are in the mood for.
Around the area My An you find a 30km long white beautiful beach and some of the bigger hotels. This is also the area where expats tend to stay which also means international food and workplaces. If you are looking for more local atmospheare and souroundings you should look for the area H?i Châu 1 which is filled with Vietnamese restaurants and more local atmoshere.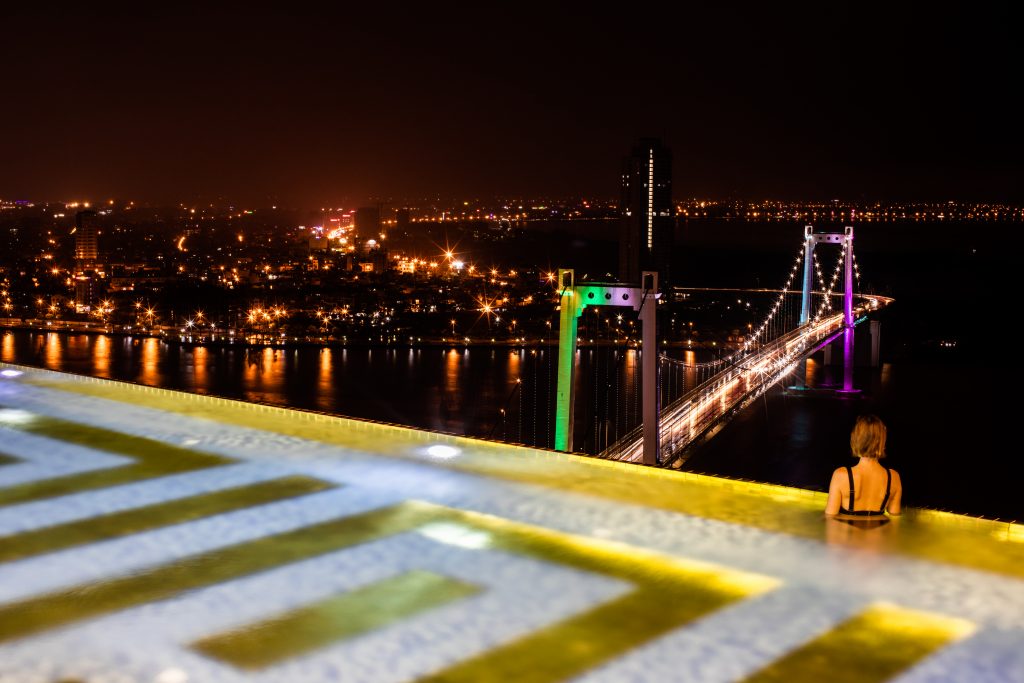 Roots
Most of our breakfast and lunch were enjoyed this wonderful restaurant Roots!
Owned by a lovely Japanese guy who most recently started Roots and his bar Wanderlust which is located next to each other.
It is not the quickest service but the food and drinks are made with love from all of the best and most fresh ingredients. We tried everything from the menu to be honest and we did not have any complaints, neither about the prices – all worth it.
Taco Ngon
Tacos in Vietnam that taste good? Oh yeah!
This lovely little fusion kitchen has managed to find the perfect combination of fresh Asian toppings with the best from the Mexican tacos.
You can check out the menu on the pictures below – again, we eat here 3 times and tried all combinations. Every month they announce the "king or queen" who eat most Tacos in 1 sitting, the record is 20 tacos! Beat it and your picture goes on the wall.

Bao An Macrobiotic
This small vegan restaurant, is run by the sweetest family and one of our absolute favorite places to eat in Da Nang! The owner beleives a lot in Macrobiotic food and she can tell you a munch of personal and touching stories. Stories about her own family and how healthy vegan and macrobiotic food has saved her family.
"We are all natural mother's children, love her mother and let her embrace and cover me"

Motto of Bao An's house.
The food is so fresh and the ingredients and combinations magnificent!
Personally the fried springrolls and noodles, are worth traveling to Da Nang for!

Da Nang to Hue by train
One of the most spectacular experiences we had in Vietnam was taking the train 3 hours north to the old ancient temple capital Hue.
You can see a video, pictures and read more about this train ride at this link.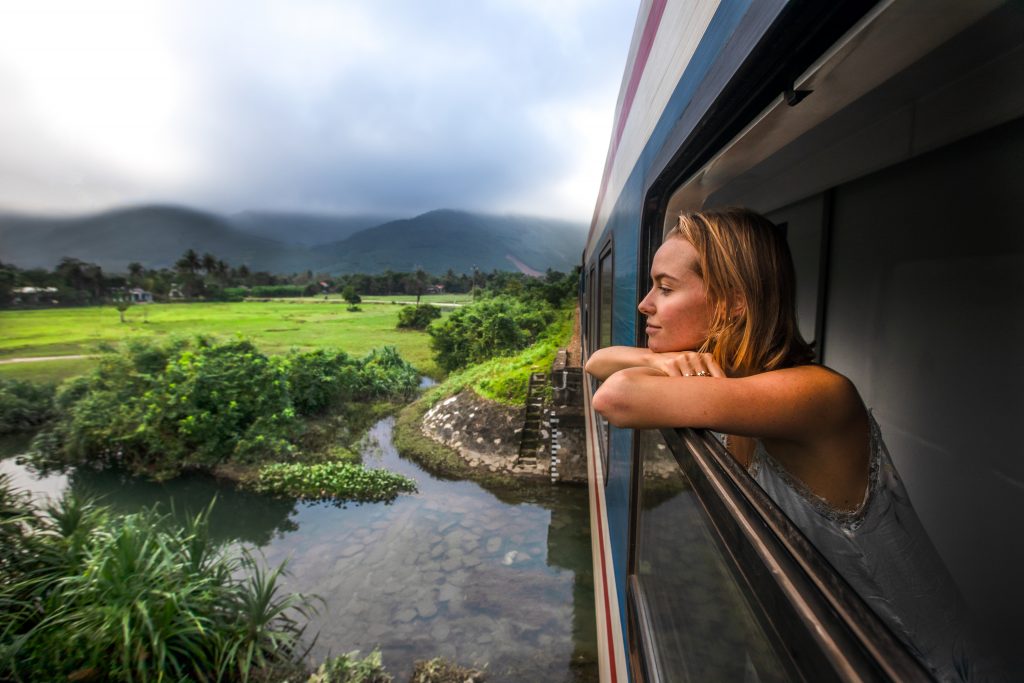 Dragon Bridge
You cannot miss this massive bridge in the middle of Da Nang!
It was built in 2009 runs across River Hàn and is a very important landmark for the citizins of Da Nang.
Every Saturday and Sunday this enourmous dragon spits fire at 9 PM!
Lady Buddha and Monkey Mountain
At the end of the beautiful My Khe beach, you find a small national park.
Watching over Da Nang is the largest Buddha statue in all of Vietnam with a height of 67 meters.
Besides the tall beautiful lady Buddha statue, there are a few old temples which are all worth the trip. You can easily get a Grab to the statue and there is no entrance fee, so the trip is for free!

We suddenly saw a few monkeys coming down from the trees, unfortunately, because they were used to getting feet from the tourist arriving at the lady Bhudda statue.
Unfortunatly, we did not manage to get to the Golden Bridge because of the weather while we were there. Golden Bridge was one of the main reasons we decided to travel to Da Nang in the first place.
The bridge is 150 meters long and located in Ba Na Hills not far fra Da Nang.
You have for sure seen this pictures on Instagram with photoshoped birds and sunrise. We only heard great things about this location but of course be aware that you will not visit this bridge alone like on some photoshopped Instagram pictures.
You can check out prices at this link
SunWorld
If you are traveling in Vietnam you cannot miss the Sun World, the entertainment brand of Sun Group. They have commercials everywhere and in Da Nang they have, Sun World Ba Na Hills, Sun Wheel and Sun World Danang Wonders. Personally, I am afraid of heights so we did not visit Sun World in Da Nang.
But if you like amusement parks or a romantic ride in a gigantic Ferris wheel, you should definitely check it out!