Basically, we ended up in Hue because we really wanted to take the train through the Hai Van Pass. This was the most beautiful experience we have had in Vietnam, check it out here.
Another reason we decided to travel to Hue was because of the flight prices from Hue. It was a lot cheaper than from Da Nang Airport to Ho Chi Minh City.
We didn´t do a lot of research about Hue, but quickly discovered the city was full of historical buildings!
Our impression was that Hue had a lot of local atmospheres too, and not too many tourist.
Tomb of Khai Dinh King
It took 11 years to build this beautiful tomb where Khai Dinh, the twelfth Emperor of the Nguyen dynasty is buried. The architecture is a blend of eastern and western architecture and some of the most spectacular, we have seen in Asia so far when it comes to architecture!
It is located in the Chau Chu mountain only 20-30 min drive from Hue city.
We went by Grab from Hue city to avoid arriving with 45 other tourists in a buss. As you can see in the pictures below, we were pretty much the only one there!

You can buy the tickets at the entrance and the price is 100.000 VND per person.
---
Purple Forbidden City
There are so much history and well-kept buildings inside these walls!
The Purple Forbidden City is massive and you can easily spend hours walking around! As you see in the pictures below we did not see a lot of tourists. This means you can look at all the small details and read about the amazing emperors of Vietnam without any stress.
You need to buy the ticket at the main entrance and it is not possible to sneak in anywhere else!

---
Flag Tower
This is the focal point of the imperial city in Hue. You cannot miss this massive Vietnamese flag! The tower was build 1807 and started with a yellow flag of royalty. Doing the turbulent history of Vietnam the flag has been changed many times. It's a national symbol.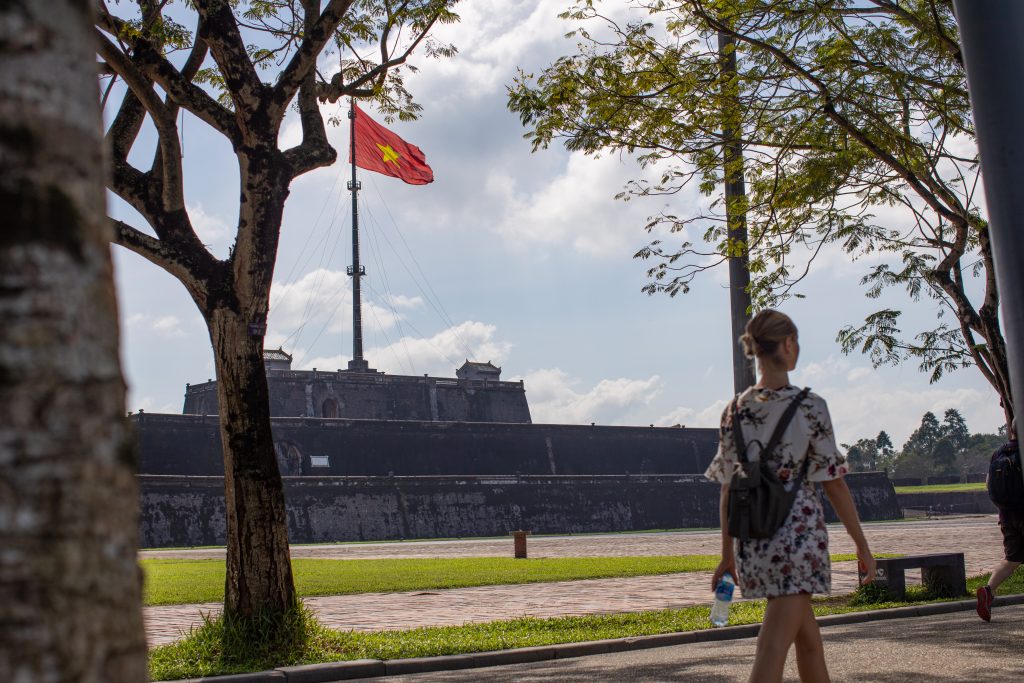 ---
Pilgrimm Village
We stayed at Pilgrimm Village Boutique Hotel which is located a bit outside of the city center, but with a lovely free shuttle bus to Hue center.
This resort was peacefull and quite and the spa and pool areas were absolutely amazing!

---
Abandoned Waterpark
The abandoned waterpark! who do not want to explore such a cool thing!?
We took a Grab to the location we had heard about and "Free entrance to abandoned park" was the word on our maps.me.
However, as soon as the Grab driver stopped the car, a security guy with a sign stopped us. In English the sign said "Dangerous, you have to leave right now".
We waited for the security to drive off before we sneaked further into the abandoned waterpark. However, it did not take the security 5 min to find us again. This time he escorted us to the old main entrance. At the main entrance, 3 other security guys were sitting. We kindly asked if it was okay to enter the waterpark or pay for the entrance. This was without discussion definitely not an option!
We left the place with a kind of dissapointed feeling, because we read tons of places it was easy to enter and not a crime at all. We know a lot of people has been there, so maybe we were just not sneaky enough.