In this blog post, we will recommend you what to do in Esbjerg. We really enjoyed our time in Esbjerg, and we hope you will too! We have gathered some of our favorite things to do in Esbjerg. Let's begin!
Hotel Britannia
When we were in Esbjerg we stayed at the beautiful Hotel Britannia. The hotel is recently restored and they have done an amazing job with the interior design! The whole hotel is so cozy, with colorful and modern Scandinavian design and lots of small corners with lounge areas. The hotel also has two stunning restaurants. One is a hip café named Appetiit, where you will also eat breakfast when staying at the hotel. The breakfast is btw so great and many of the foods on the menu are homemade. The other restaurant is named Mundheld and is an a la carte gourmet restaurant with danish and nordic gastronomy, which looked really great as well.
The Men at Sea monument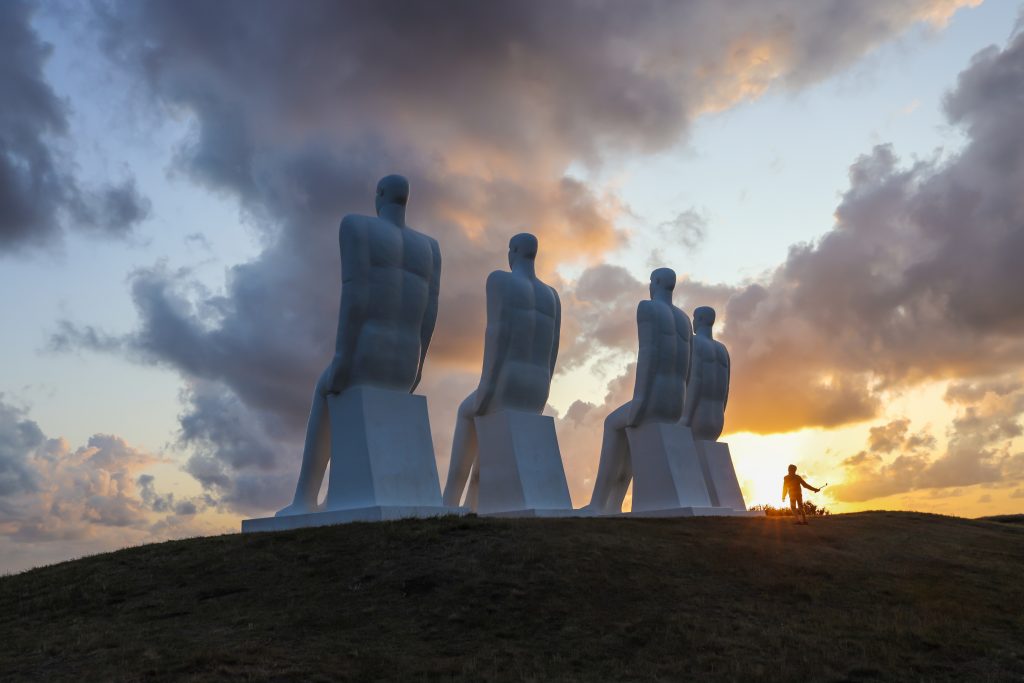 When visiting Esbjerg you should definitely make time to discover the Men at Sea monument by Svend Wiig Hansen. This is a huge monument of four men who are sitting and scouting over the horizon at the waterside of Esbjerg. The men are nine meters tall and all white. The monument reminded us a little bit about Dodekalitten at Lolland, but the art pieces are actually quite different and symbolize very different things. It is definitely surprising to us that there are huge art pieces like these in Denmark, and we absolutely love to discover them and read about what they symbolize.
Dinner at Det Arabiske Køkken(The Arabian Kitchen)
Maybe it is a tiny bit odd that we are recommending an Arabian/Libian dining experience to travelers in Denmark. But let's be real! You are kind of craving something different than danish foods after just a few days of traveling in the country. We had dinner at Det Arabiske Køkken at Esbjerg, and it was such a mouthwatering and extraordinary food experience! We truly loooved the food at this restaurant, and they have alternatives for all: vegetarian, vegan, gluten intolerant, etc. When we visit Esbjerg again, we will without a doubt have dinner here again!
The nature at Marbæk
We got this tip from one of the sweet girls working at hotel Britannia. Marbæk is a really stunning nature area very close to Esbjerg. Here you can see cattle, fields covered with heather, and beautiful beaches. We recommend you to drive to Marbæk, park the car and take a long hike in this beautiful nature surrounding. Especially in August and September the heather is completely purple and lights the area up. The nature in Marbæk is such a sweet and peaceful escape that immediately will bring you in a calm mood.
Day trip to Fanø
Lastly, we will recommend you to take a day trip to Fanø. The ferry from Esbjerg to Fanø is only 15 minutes and the ferries are running all day long. What is special about Fanø is among others, that you are able to spot seals and to drive on their beach, which is a very fun thing to do if you are on a road trip. Fanø also has a couple of great cafes and restaurants, so you can definitely grab some lunch or dinner here as well. What really stood out to us about Fanø, was the beautiful old houses on the island. They are really special and worth seeing if you visit Fanø. Fanø is a small island and is known as a great place to spend your summer vacation. However, if you don't have that much time, we believe it is a great alternative to stay in Esbjerg and just do a one day trip to Fanø.
We truly hope you liked these tips about what to do in Esbjerg. Let us know if you ever visit Esbjerg. We would love to hear about your experience!