Hotel Britannia is located in the very center of Esbjerg. There is a walking distance to everything you need.
This beautiful hotel has been restored in March 2019. Everything inside looks fabulous. As soon as you enter the reception you feel welcome and the interior and design is beautiful.
Green key certified
The Green Key award is the leading standard for excellence in the field of environmental responsibility and sustainable operation within the tourism industry. This prestigious eco-label represents a commitment by businesses that their premises adhere to the strict criteria set by the Foundation for Environmental Education. A Green Key stands for the promise to its guests that by opting to stay with the Green Key establishment, they are helping to make a difference on an environmental level. The high environmental standards expected of these establishments are maintained through rigorous documentation and frequent audits. Green Key is eligible for hotels, hostels, small accommodations, campsites, holiday parks, conference centers, restaurants, and attractions.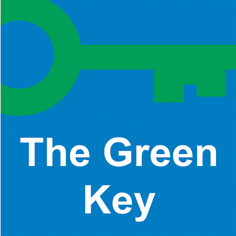 The Rooms
The rooms are beautiful and bright. We loved the interior and design and we felt at home since the moment we walked in the door.
The rooms have a big bathroom and a huge television in the room. Besides that, you have your own Nespresso coffee machine with 6 different flavors of coffee. Perfect for waking up in the morning!
All rooms are about to be renovated which means the rooms will only get even prettier than now!
There are two different options when it comes to eating at Hotel Britannia.
Both places have been established since the reopening in March 2019. The design and furniture are exactly how we like them!
Appetiit
When you step into Appetiit, it strikes you right away: the feeling of relaxed deliciousness. The goal has been to create a lounge bar that gives you space to do just what you need most: you can eat a burger, a steak or a delicious salad. You can drink a beer or a cup of coffee. Or you can just take a breather in one of the sofas. It is up to you.
The pictures below are from the lovely breakfast buffet!
Mundheld
Restaurant Mundheld is Esbjerg's Nordic cuisine. With fine craftsmanship, neat and clear Nordic tones, the sharp men and women at Mundheld are ready every day with exciting gastronomic experiences.
Because we go for quality rather than quantity, there are only 9 tables in Mundheld. When everything is busy, it's just a shame. We don´t compromise with either food, wine, service nor the surroundings. It is self-explanatory.
It may be a good idea to book your table in good time at Mundheld.