This blogpost contains affiliate links
Ærø is a small island located south of Funen in Denmark.
It is an island that only can be reached by ferry from either Jutland or Svendborg in Funen.
Last week they opened up for the new ferry ´Ellen´which is the first 100% electric ferry in Denmark. This is a huge step in terms of tourism and we hope that a lot more will follow.
Ærø is an energy island and is self-sufficient with their own energy from 6 windmills located on the island. The windmills are owned privately by 10% of the inhabitants on Ærø. This is quite a unique situation and nothing we have seen before!
People on Ærø started the transitions to think more green in the early '80s and has been some of the front runners in Denmark for a more sustainable country.
They also have a big solar collector system which was installed in 1996 and was back then the largest one in the world.
Besides that, the busses are for free in Ærø and you can bring your bikes on the bus. If you don´t have a bike you can rent it everywhere on the island!
Weddings at Ærø
Ærø has become the Las Vegas of weddings in Europe. For many years a lot of foreigners who had difficulties getting married in their own countries due to laws or other struggles, they could come to Ærø in Denmark and have their wedding. We were told that in the past there were more than 3000 weddings a year at the island Ærø.
A few people such as Danish Island Weddings and Sigridsminde are specialized in weddings and the picture below is their beautiful car and flowers.
During the last couple of the years, the government has made restrictions to foreigners to avoid proforma marriages, which means everybody now has to visit the municipal in Svendborg to get allowance before the marriage can take place in Ærø.
Vitsø
On the north-western part of Ærø, not far from Søby, you find Vitsø.
There is a beautiful walk from where you have the beautiful ocean on one side and salt marshes and wetland on the other side. Absolutely stunning nature and perfect for a stroll around the beautiful nature of Ærø.
Vesteraas
Are you up for a lesson about agriculture, organic and ecological farming and animal welfare? – Then Nils Ørum is a person you would love to spend time with!
We had 2-3 wonderful hours together with Nils and he told us inspiring stories of how he changed his farm to an ecological biosphere.

As an Organic Operations Manager and with a great love for nature, Nils is keen to inspire and give children, young people, families and the elderly access to the diverse nature that he himself loves most. It must both be tasted, touched, smelled and listened to in interaction with the knowledge being emitted. Flowers and animals, food, herbs, ecology, and agriculture are important themes. And the desire is to inspire you and the group you are part of, to the experience of nature spirit through the shared commitment, the shared experience, and knowledge.
Bed&Nature
It's possible as well to book one of Nils apartments and his concept called Bed&Nature. It is not an ordinary bed&breakfast and you need to care about nature and want to learn – otherwise, bed&nature is not for you.
You can see pictures of the apartment below.
Shelter at Vesteraas
Vesteraas and Voderup Klint has a great story and is some of the oldest meadows in Denmark. If you want to sleep in the wilderness of Vesteraas you can book one of the two shelters as seen on the picture.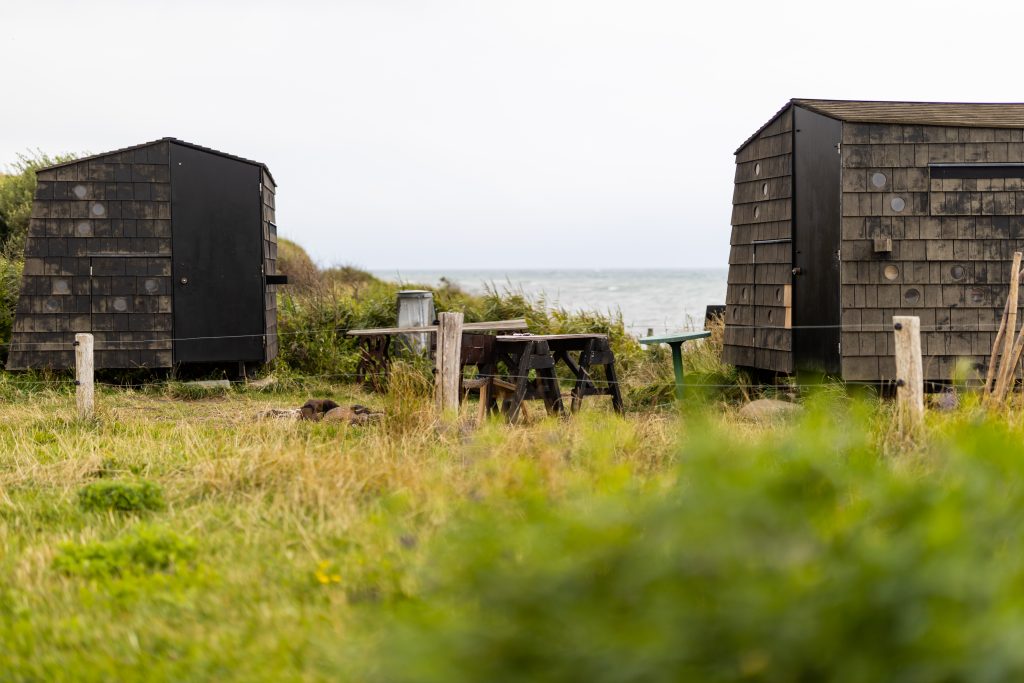 Ærøskøbing
We heard rumors about the small cobblestoned streets with colorful houses from the 1600 century. We have heard that story before but often got disappointed because it was then only a house or two in a very touristic area. However, Ærøskøbing was a different story!
It seemed like no matter where we turned or which street we walked at, all the streets looked like the picture above. Ærøskøbing is truly a fairytale village.
Andelen Guesthouse
Andelen Guesthouse is Ærø's one-of-a-kind boutique hotel.
It is formerly the town's granary, and this lovingly restored building oozes old-world charm whilst offering modern comforts and facilities to travelers from all over the world. Andelen is also home to Denmark's smallest public cinema and the international Ærø Jazz Festival.
Read more about Andelen Guesthouse in our review and blogpost here.
Azzurra Vino
If you are looking for a drink before dinner Azzurra Vino is the perfect spot! We walked by a few times and did not notice before 4th time that it was actually a wine bar! It looks like a mix of a garage sale and café.
However, they serve the greatest organic wines and when the sun is shining there is plenty of people sitting outside and enjoying themselves.
Spiseriet
If you are looking for a great local restaurant that uses organic local groceries and freshly caught fish – Spiseriet is the place!
They have a great terrace as well if you are visiting in the summer period.
Make sure to reserve a table during the weekend since there is not a lot of options for restaurants in Ærøskøbing.
Book your table and see the menu here.

Vesterstrand
Ærø is very well known for its small colorful beach huts.
All these huts are privately owned and people use them for enjoying a day at the beach.
Vesterstrand is also perfect for a walk beside the beautiful meadows with horses and water on both sides of the peninsula.
The water is rather shallow which makes Vesterstrand very suitable for swimming and also watersport as windsurfing and kitesurfing.
På Torvet – breakfast
If you want to relax and enjoy your holiday you should start with a breakfast buffet at ´På Torvet´. It cost 100,- DKK per person and everything is freshly made and the quality and service is excellent!
Midtmark Økologi
´Midtmark Økologi´ is an ecological farm that just started a few years ago.
What is special about this ecological farm, is that all groceries are made in raised garden beds. Maiken and Ole asked themselves:
"Why do big farming when you can settle for less?". This is why they decided to move to Ærø and start their ecological farm.
The door is always open and Maiken and Ole are super friendly and love to explain and talk about their project of Midtmark Økologi.
They have a small stand on the street where you can buy their fresh groceries. We have never tasted tomatoes and strawberries like the ones we had at Midtmark Økologi.
There is a sitting area at the farm so you can make your own salat from their garden and enjoy your lunch among the raised garden beds.

Adress: Nederste Midtmarksvej 5, 5960 Marstal
Marstal
You haven't really seen Ærø before you have seen the most photographed beach hut in the world.
Marstal is another lovely city at Ærø and you can easily make a day go by walking around small streets. There is plenty of places to eat great local food and enjoying the beautiful view of the harbor and ocean.