It was actually a difficult task to decide which places to visit in our own hometown, Copenhagen. We wanted to recommend the places that express, not only the local Copenhagen culture but also the Danish culture, the best. Our conclusion was that the local Copenhagen culture is a bit more intercultural and colourfull than most of Denmark, and this is what we have tried to reflect in our choices of recommendations. We decided to recommend some buzzing, urban and intercultural eating experiences, a small peek into the Danish farm industry and a bit of outdoor experiences in the Danish nature, which we Danes are so reliant on.
Lidkoeb
This is one of the best hidden gems in Copenhagen. Some locals know about this place but definitely not everybody. This old building was housing the production of pharmaceuticals until the late 1980´s. For many years this place was abandoned until 2010 when Lidkoeb was born.
The building is located at the end of a small alley with no signs – so you need to know which gate you have to enter. Outside you have a lovely courtyard with lightbulbs and blankets.
Inside on the first 2 floors is a modern stylish bar.
The real secret is located on the top floor which is a true whiskey bar. Chesterfield sofas and chair and an enormous variety of whiskeys from all over the world. Definitely a must see!
1656 Cocktail Bar
This bar is a sister bar to the cocktail bar 1105 in Copenhagen. (definitely also worth a try)
The reason we´ve chosen this one is due to the amazing atmosphere and interior.
The feeling you get when walking into 1656 is very similar to walking into a private party in an apartment where you don´t know anybody. You then find your own corner with your friends, partner or date and suddenly you feel like home.
The cocktails are amazing and the service even better!
1656 is the neighbour to Copenhagen Meatpacking District. A location that´s great for day and night visits. Plenty of urban restaurants, bars, nightclub and food markets.
Christiansborg Tower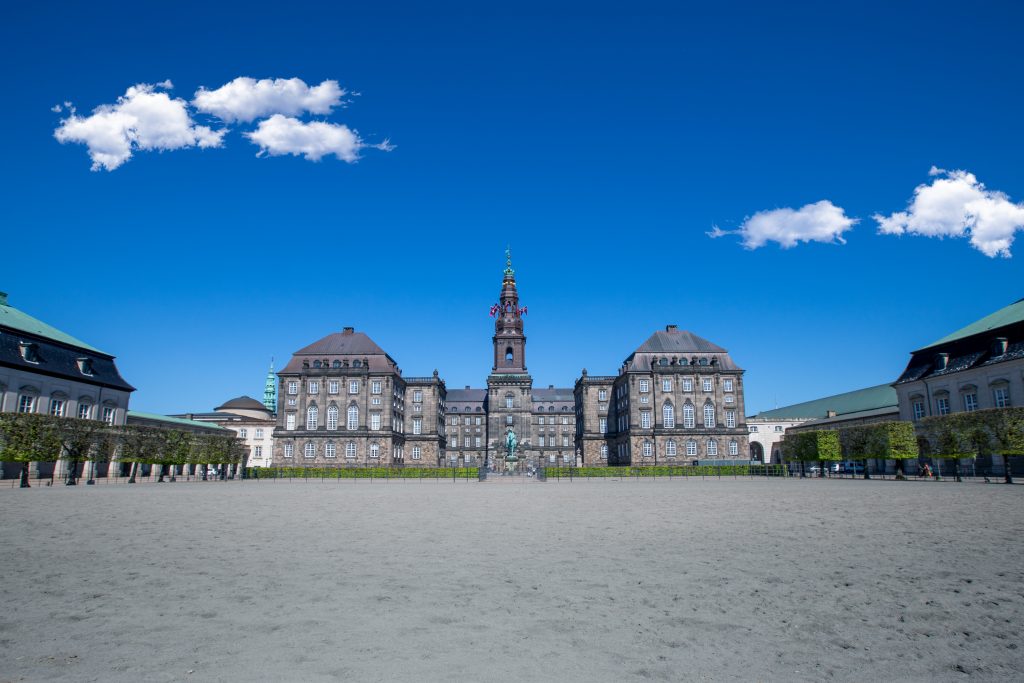 In 1795 it was decided how tall buildings we are allowed to build in our capital, Copenhagen. The maximum height of a building is 24 meters, which makes the skyline of Copenhagen rather unique. A lot of old and very well kept buildings are displayed in the Copenhagen skyline, but due to the "lack" of tall buildings, it can be difficult to find a perfect spot to spectate this beautiful capital.
We definitely recommend that one of the places to visit on your stay in Copenhagen is on the top of the tower of our parliament building because you have a great 360 view and it is free!
There is a restaurant up in the tower as well which gives you a beautiful look into the 100 years old building.
Dyrehaven
Dyrehaven' is located 25 min north of Copenhagen and you can go by train: take the S-train (the red one) from any station to Klampenborg (the C line). When you get to Klampenborg, just follow the signs saying "Dyrehaven or Dyrehavs Bakken"
The beautiful park has an amazing wildlife with lots of deer, threes and huge fields and is a perfect example of danish nature. You will experience that the local Danes use a lot of their spare time taking a run, walking their dog, horseback riding or biking in the forests surrounding Copenhagen. If you find the idea of experiencing the park on a horseback, contact www.fortunensponycenter.dk/kontakt
In the middle of Dyrehaven, you also find 'Dyrehavs Bakken' which has the worlds oldest functional roller coaster and a lot of dining possibilities.
If you want to go for a swim after a day in the park, you can use the lovely beach 'Bellevue' with white sand and clear water. Bellevue beach is located just 5 min walk in the other direction from Klampenborg train station.
Blågårdsgade
Not far from the city centre of Copenhagen you find 'Nørrebro' just on the other side of 4 beautiful small lakes. Throughout the last 10 years, Nørrebro has become an extremely popular place to live and also the part of Copenhagen where most citizens live.
Blågårdsgade is one of the streets that always reminds us of the southern part of Europe with great outdoor eating and drinking culture. Some parts of Nørrebro is a bit trashy with lots of graffiti etc. but when you walk by Blågårdsgade you immediately get the need to sit down and grab a cold beer or hot cup of coffee.
There is a bunch of different coffees, restaurants and bars from all over the world and the quality and price are very fair no matter where you decide to sit down.